Everton are looking to complete their first league double of the season when they travel to the London Stadium on...
A sensational strike from late substitute Gylfi Sigurdsson sealed a massive 2-0 home win for Marco Silva's Everton team....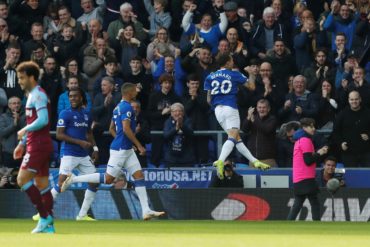 A much changed side and game formation saw Everton blow West Ham away with two extraordinary goals from Bernard and...
Marco Silva has labelled this weekend's clash against West Ham as a 'must win game' as he attempts to kick-start...
West Ham have joined Everton and Tottenham Hotspur in the pursuit of Andre Gomes. According to the times, West Ham...
Bernard believes Evertonians will see more goals from him now that he's got his first Premier League strike. Everton eased...
Everton's hopes of European qualification were given a boost after a dominant 2-0 victory against a lacklustre West Ham at...
An excellent 90-minute performance from Everton saw them completely dominate a shocking West Ham side as they out thought, outfought,...
Sometimes there is a game and a performance that is best forgotten. For Silva and the Everton players I would...
Adam spoke to fans Gavin Buckland, David Fehily and Mikey Fitzgerald after the 3-1 defeat at home to West Ham on Sunday...