A blistering opening twenty minutes saw Everton open up a three goal lead on goals from a Yerry Mina header,...
A sensational strike from late substitute Gylfi Sigurdsson sealed a massive 2-0 home win for Marco Silva's Everton team....
Everton's hopes of European qualification were given a boost after a dominant 2-0 victory against a lacklustre West Ham at...
Jordan Pickford – 6 There wasn't much to note from Jordan Pickford's performance. He potentially could have gotten something on...
[tps_header]5 Alternative Midfielders Everton Should Sign Instead Of Splashing The Cash On Gylfi Sigurðsson. We've all been glued to our...
After news of a £40m from Everton for Sigurdsson broke this morning, Swansea City have confirmed reports he has pulled out of...
Everton have confirmed both Andre Gomes and Gylfi Sigurdsson will be unavailable for their nations' upcoming international fixtures. Gomes' Portugal...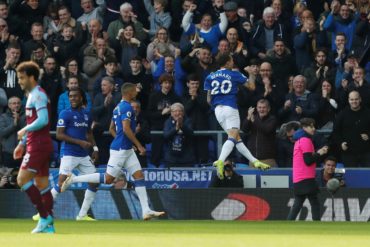 A much changed side and game formation saw Everton blow West Ham away with two extraordinary goals from Bernard and...
Everton's proposed transfer of Gylfi Sigurdsson is still very much on as talks between the two clubs continue. Recent reports...
As with August and September, Everton played only four games in the month of October, starting with an annoying penalty...