What a season we've just endured!! Forty-seven games in total for Everton and it's fair to suggest that it was very much a season of two halves – better before the New Year than after. The majority of games were played behind closed doors and there can be little doubt that the lack of fans inside stadia affected every clubs home form, with a record number of victories from the away sides and a number of clubs, notably Everton and them across the park suffering dramatic losses of home form, particularly after the New Year.
Everton, with three exciting new signings – Allan, Abdoulaye Doucoure and the pride of Colombia, James Rodriguez – in the side on opening day, launched into a supercharged start to the campaign with a dominant victory at the new White Hart Lane and the fun continued with six more straight wins, three in the Premier League and an encouraging three win start to the Carabao Cup campaign. Everton were playing attractive attacking football, scoring goals seemingly at will while leaking a few as well but, we were winning and confidence within the fanbase was as high as it'd been for a good few years.
The Goodison Derby saw the first draw of the season in a game that has been completely forgotten for the football played and goals scored as the media chose to focus and drone on endlessly and monotonously for months on end over a challenge on Dick van Dijk by Jordan Pickford that neither referee Michael Oliver nor VAR deemed a foul, a penalty, a booking or a red card for the England Number One. The subsequent fallout as them across the park and their army of former RS pundits together with a largely fawning media piled into Pickford to such an extent that he felt it necessary to employ private protection for his family such was the incendiary nature of much of the bile spouted. The continual scrutiny, and it's still going on, saw Jordan suffer a loss of form and confidence that ultimately led to him being rested by Carlo Ancelotti and both Robin Olsen and Joao Virginia see some game time.
Away losses to Southampton and Newcastle brought us to the first home loss of rather too many that were to follow. Having led through a Bernard strike, Everton capitulated without much of a whimper to Manchester United. The next game, Fulham away, saw a microcosm of the season played out. Everton rather good in the first half and really rather woeful in the second half in hanging on for victory instead of romping to it. With crowds still not permitted to attend, newly promoted Leeds came to Goodison and frankly, ran us somewhat ragged before bagging the late winner.
Into December and limited numbers of fans were allowed back as Covid imposed restrictions were eased and the fans had the effect that was needed as even though only sparsely populated, Goodison saw Chelsea and Arsenal beaten with another impressive win at Leicester sandwiched between them. The Carabao Cup ¼ final saw Manchester United again the visitors to the Grand Old Lady and disappointingly, it was they who progressed as again, Everton sadly didn't rise to the challenge and give them anything like the battle they should have done. Boxing Day though saw a hard-fought victory at bottom of the table Sheffield United and incredibly, despite those disappointing losses, Everton sat second in the Premier League table – Merry Christmas Blues.
January was a mixed month and started ominously badly with New Years Day seeing West Ham and David Moyes take three points back south from Goodison, FA Cup victories over Yorkshire opposition and another win on the road at Wolves led us to a draw with Leicester and something of a no-show at St.James's Park as Newcastle did the double over us. February began well with a revenge and long-overdue victory over Leeds at Elland Road; a terrific come from behind draw at Old Trafford and an enthralling FA Cup victory over Spurs on a freezing cold night that lifted every Blues spirits.
But this is Everton and within a week those spirits evaporated as first Fulham and then Manchester City came to Goodison and took another six points away with them. The home form was becoming a major concern, thank heavens for our away form as we crossed the park to take on 'them' having the worst home run in their history. And we gleefully added to it with a peach of a pass from Rodriguez to send Richarlison in for the early lead and Gylfi Sigurdsson stroking home a second half penalty to finally get that blasted Anfield monkey off our back.
Victories over Southampton and a doomed West Brom rekindled hopes of Europe but, further losses to Chelsea and at home to Burnley then saw us exit the FA Cup as Manchester City made it look far too easy in going through to the semi-final draw. April was an unbeaten month as draws with Palace, Brighton and Spurs were followed by our first ever win at the Emirates, Richarlison with a bizarre through the legs of Leno winner in the dying minutes – who cares how it came?
And so to May and still lingering hopes of European qualification. One point from six against Villa with another home loss was another hugely annoying setback, victory at West Ham re-raised European hopes but, the home loss to already relegated Sheffield United was the epitome of how bad we'd been at home for far, far too much of the season. With a crowd of 6,500 back for the final home game against Wolves, Richarlison headed a much needed winner before the less said the better shambles that was the last throw of the European dice as we were thrashed by City on their title coronation day, and we couldn't say Goodbye to season 20/21 quick enough.
Putting the brief review of the season behind us, let's turn to the major point of the article… and looking at the Man of the Match voting as the season unfolded and the leadership of the Player of the Season table changed hands on more than one occasion.
Flying out of the traps and scoring for fun was Dominic Calvert-Lewin, closely followed by the improved early season form of Michael Keane as they took the September and October plaudits. Allan chipped in winning the November award before Ben Godfrey flexed his muscles winning the congested month of December. James Rodriguez won the first of his two monthly awards in January to narrow the gap on DCL and Keane before a terrific February for Tom Davies saw him coming up on the rails in what was now becoming a six-horse race with Abdoulaye Doucoure consistently picking up votes too. The injury to Abdoulaye affected his chances of a higher place on the final podium as Richarlison edged to the March award on the back of game winning goals against both Southampton and West Brom. His second monthly win saw James Rodriguez move clear of the field by winning in April and Jordan Pickford staked a late claim with a clear win in the final month of May.
It was a heck of a season with an incredible record of eleven wins away from Goodison while the eight home losses in the Premier League is something we hope we'll never, ever see again!! The topsy-turvy nature of the season was reflected in the Man of the Match polls with no fewer than six players leading the table at various times.
You voted on GrandOldTeam.com in your droves, with an incredible (over 40%) increase in the total number of votes cast compared to season 2019/20 so, please accept a massive THANK YOU each and every one of you for supporting GrandOldTeam.com and the Match Reports and Polls in such fantastic numbers.
And so to the main event and the awarding of the GrandOldTeam.com Player of the Season for 2020/21, and after checking and re-checking all the votes cast, the top five vote winners in reverse order were…
In fifth place, after an injury affected but, impressive debut season as a Blue was Abdoulaye Doucoure.
Taking fourth place having been right up in the running before Christmas was Michael Keane.
Claiming third place after an excellent start but ultimately injury affected and shortened season, was our mercurially gifted James Rodriguez.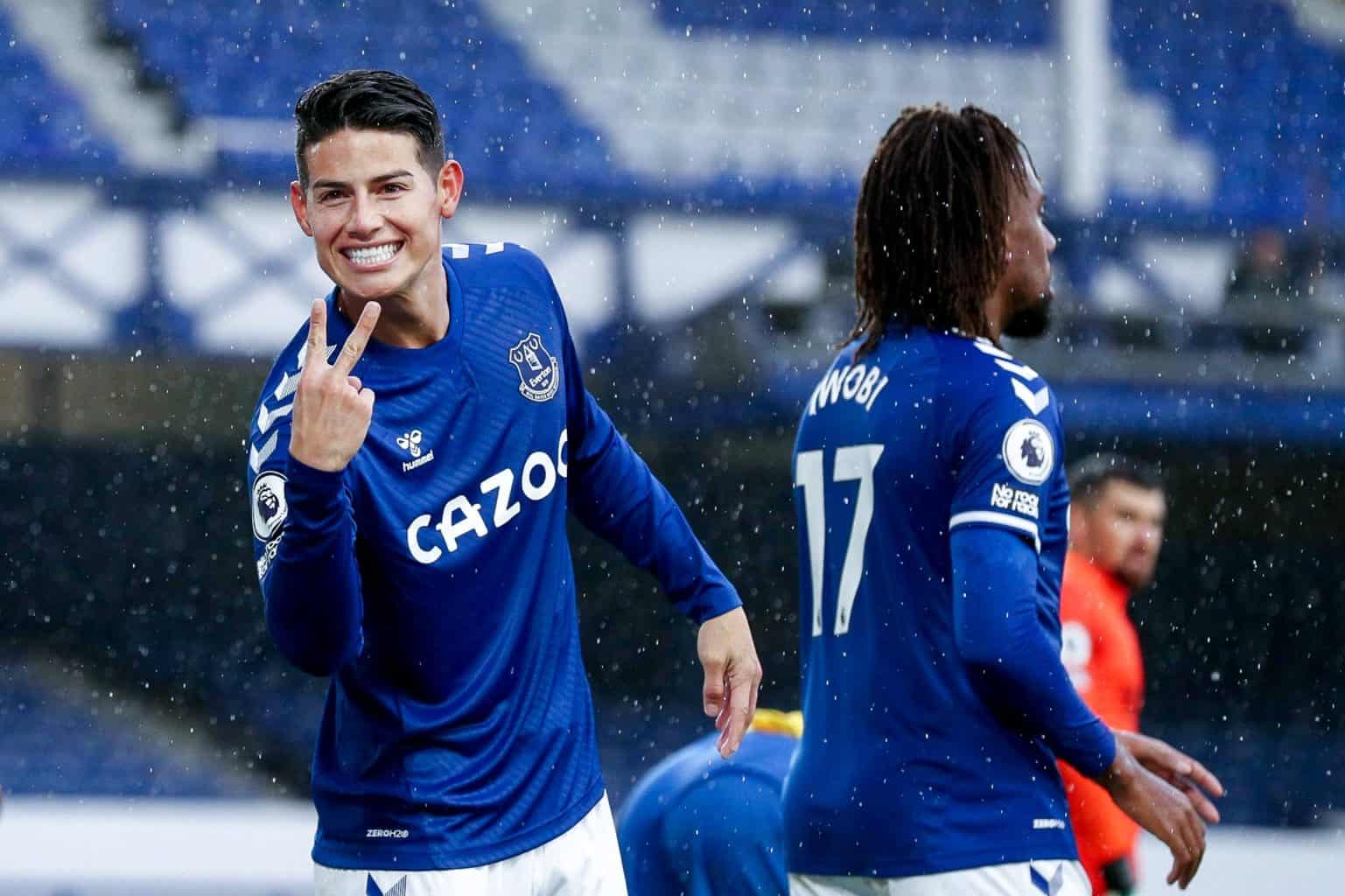 With an impressive debut against 'them' our runner-up established himself in the side from November onwards with a string of solid and athletic performances in various positions that saw him selected to join his first England squad – massive congratulations go to Ben Godfrey.
And that just leaves the winner, and after a troubled season that saw him pilloried cruelly and unjustly and then rested, he bounced back and you the fans recognised the return to form, increased focus and improvement in voting unequivocally for the GrandOldTeam.com Player of the Season for 2020/21…
Jordan Pickford.