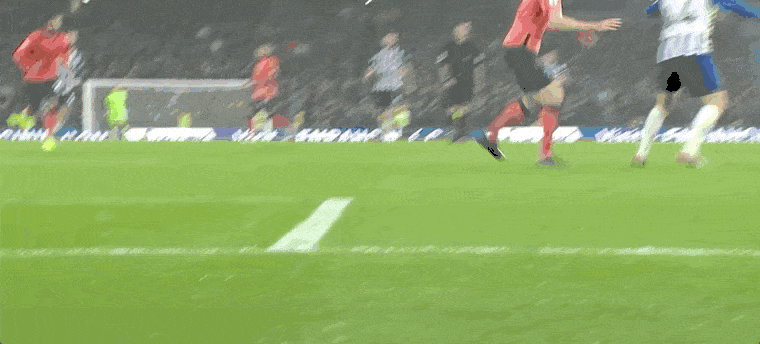 There it is. The innocuous, blink and you miss it event which turned Saturday's match.
Mick Keane on Aaron Connolly. No one who was watching – in the stadium, on tv, even on the pitch – thought it was a penalty (save for perhaps Connolly) and of course VAR.
VAR. Football's all seeing eye. Football's pedantic autocorrect. Manned in this case by Lee Mason at Stockley Park who whispered sweet nothings in Andrew Madley's ear until he awarded a penalty.
At that point we were winning 2-1. Mason Holgate had just strolled out of the back and slid a beautiful pass through to Dominic Calvert-Lewin, and he'd swept an equally beautiful finish home.
There wasn't long left. Surely we were going to see this out? Surely!? Hope, that nasty imposter, grows like weeds with us. It's incessant. It presses like Richarlison.
There's no FFP for hope, no cap on optimism. And it wasn't that outlandish an idea anyway was it? Winning two games in a row?
That's what hurts the most about this. I let the hope in. And as soon as I did, three points turned to one point and then turned to none.
One thing I can't understand, is the blame that Silva is getting for this. I can understand that some dislike him. This season has been a grim disappointment. But the last two games shouldn't have furthered anyone's agenda against him. I wonder, are all the people saying "a loss is a loss" about the Brighton game – stubbornly refusing to look at the circumstances of the defeat – are they the same people who chipped away at our win against West Ham? For them, a loss is a loss, but the opposite isn't true – a win isn't a win. Myriad excuses were made when we beat West Ham – Silva stumbled on that lineup, West Ham are terrible anyway, of course we won – it's a home game! And the fact remains, that barring that myopic VAR decision, we could well have gone on to win yesterday. It was a turning point, heads dropped, and in a horrible fatalistic way, I almost expected Lucas Digne's 90th+ minute own goal. It was a wretched way to lose, and we'll all forget about Holgate's delicious pass, how Alex Iwobi always seems to make things better when he's on the pitch, and how we deserved three points.
Away from home we've amassed one single solitary point. A win would have helped us shrug this off, instead we all indulged in a mass session of primal scream therapy. Sufferance is the badge of all our tribe.
Tuesday brings us the League Cup, and another trip wire has been set up by some. Lose this, and Marco has to go, apparently. I don't really agree. This is the League Cup, a tournament we've never won, and rarely seem to play like we care about. A win though, would see us in the quarter-finals.
There it is again. Hope. Chasing me down and pressing like Richarlison.