Maybe it's a growing sign of maturity, a side advantage of not living in the City of Liverpool or a move of self-delusion but I increasingly feel less and less hate towards Liverpool Football Club. I have come to greatly resent the arrogance, misinformation and at times falsification that comes from many of their supporters when they discuss many things Everton, but that is tinged with an appreciation and respect for the football club they have built. There is much that can be learned for Everton Football Club, both good and bad as we caste our eye towards the 239th and 240th Merseyside Derby.
The biggest thing I find admirable about their support base, is the collective ability to generate a very simple, effective message which can be disseminated through all aspects of their club. When I grew up most arguments, of any nature would be ended with a Liverpool fan normally shouting "18 times" repetitively. It was a simple call to arms and a reminder that they stood alone as the most successful team in England. As Manchester United caught and overtook them, this has slowly been replaced with "5 times", again said with the same poise that is indicative of a club who are the most successful (though Liverpool are not the most successful in this competition). However from the outside looking in, you would be hard pushed to think that Liverpool supporter's mantra of "18 + 5" was anything other than indicative of a club that was the most successful in both categories. If you say a lie constantly and continually enough, people star to gravitate towards you and some will even believe you. It is a wonderful example of a support base taking a simple and generalizable message to alter the more complex reality that they live in. Many Evertonian's begrudge them for this, but I have admiration for how effectively it is administered.
This attitude runs through their football club. Players very quickly learn that anything other than winning is not acceptable. I have seen two cycles of young players in my lifetime at Everton and Liverpool look comparable at a similar age, yet the ones who play for Liverpool are the ones that generally fulfill their potential. At ages 18-20 through the Premier League years Everton have produced at the very least as many talented players as their rivals, yet taking them from years 20-25 has been a great disappointed. This is where Liverpool come into their own. Lads like Carragher and Gerrard were very decent footballers at age 18-20 but a far stretch from the top class footballers they would become at age 27/28. Without doubt the standards and expectations that run through Liverpool greatly underpin this.
What Everton fail to do, in any way, is to effectively find any equivalent counter points to Liverpool's 18 + 5 rhetoric. There is no talk of the World club cup competition Everton win (which Liverpool haven't). There is no talk about how we are the only club who are the founders of the football league who have also been ever present in the Premier League. How we have had more Golden Boot winners than any other team. How we have held the Premier League trophy (due to two World Wars) longer than any other club. How we had more points than any other side at the turn of the 20th century and could rightly be dubbed footballs "Champions of the 20th Century". How we have partaken in the most prevalent fixture in the top flight or we have played more games and had more seasons than any other team. There will undoubtedly be Liverpool fans snorting at such achievements, but to be successful in transmitting a clear message you have to let go of any concerns of derision from your rivals. Objectively, who is to say achieving the most top flight points is less of an achievements than having the 2nd most titles? As I said above, if you keep repeating a simple, generalizable message people will eventually shift in their thinking.
One of the sad developments of Merseyside Derbies has been the invention of the term "bitter" by Liverpool supporters towards Everton fans. No Liverpool fan has ever given me a workable definition as to how this works uniquely to Everton fans over any other group of supporters who have (a frankly illogical) hatred of their local rivals. It is important Everton fans look to reject not just the label but also the paradigm it emerges from and challenge the assumptions that go alongside it. I regularly see Liverpool fans laughing and commenting on Everton issues, in truth far more so than I see Everton fans passing comment on Liverpool issues. Rather than trying to out hate what are in many parts a studiously spiteful and hateful bunch of supporters Everton fans would be best served focusing on learning about and promoting our own unique set of achievements. No matter how many trophies Liverpool win, they will never be the first club of the city, never be the first team to win trophies at Anfield, the first team to play and win at the Old and New Wembley, be the first club rom Merseyside to win the football league and the FA Cup. The richness of Everton FC's history should not lead us to feel hateful or envious of any football club, least of all Liverpool who will never be able to truly shed the image of being the club who followed in our footsteps.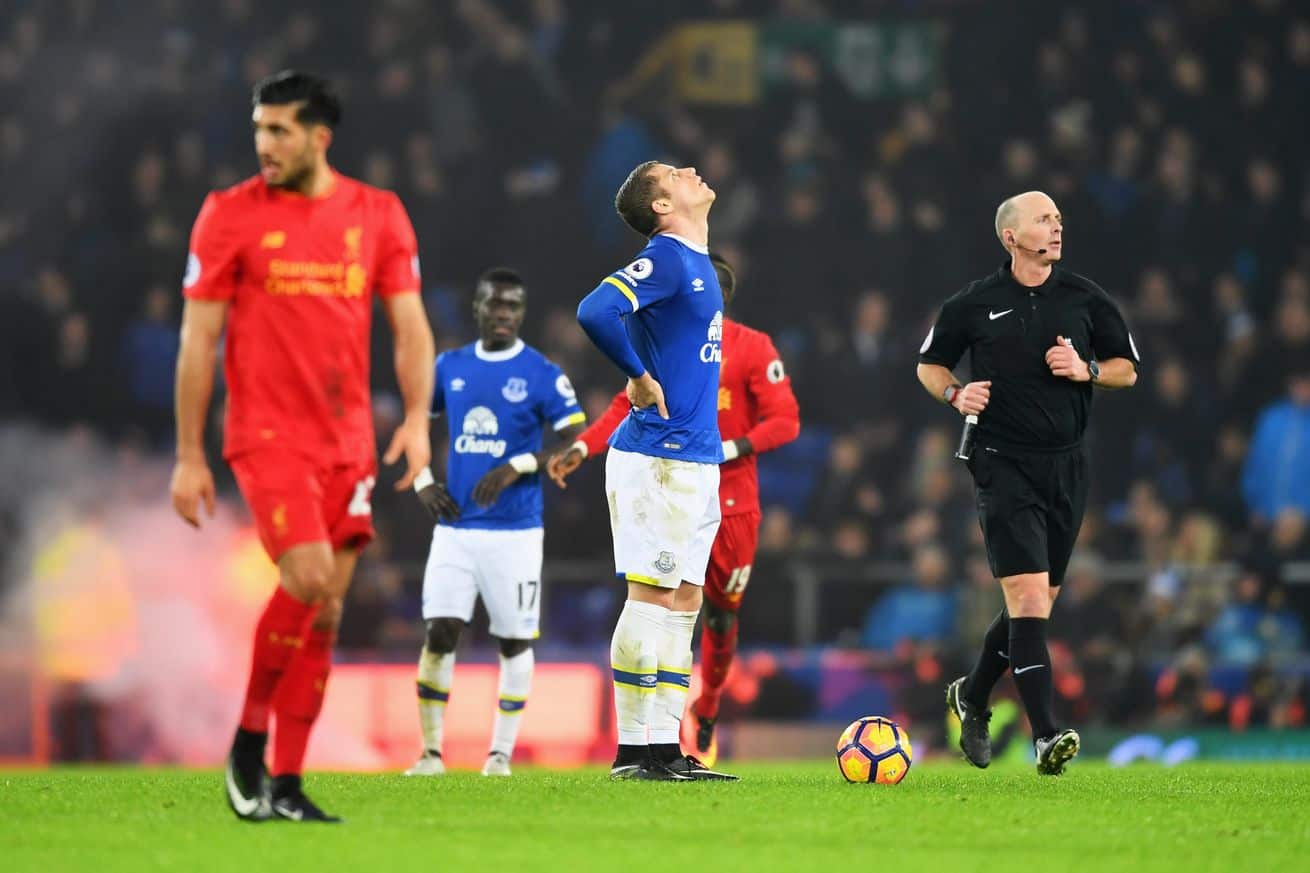 The Derby game itself will be a very difficult match for Evertonian's. There will undoubtedly be chants from a group of supporters about the exact date of when we last won a league game at Anfield and when we last won a trophy. These are the same set of supporters who with no sense of irony will consider Everton fans obsessional in the attitudes towards Liverpool and who will themselves not acknowledge they have won a solitary League Cup in the last decade but make out they are on a par with Real Madrid, Juventus, Barcelona, Manchester United and Bayern Munich. They have each won the league 8, 15, 14, 14 and 13 times since Liverpool last won it, to give a bit of context to the relative domestic performance of their supposed rivals.
Most Liverpool fans fail to comprehend the point that's being made here, which is not that Everton have been any better in the last 30 years (we have been even worse) but that both Everton and Liverpool have fallen miles behind the top European teams since the hazy mid 80's days, yet we are grounded enough to accept this reality. For many Liverpool fans, laughing at Everton has become something of the impotence of the mind to accept occurrences it cannot comprehend. Yet the message has become extremely resilient and this is a process Everton as a club and it's fanbase can learn from. You don't actually have to achieve something to get people outside of your bubble to believe you are on a par with teams. Everton's first challenge is to get people in the media to accept we have a bigger history than clubs who have won less than a quarter of the league titles we have.
There will be some legitimate questions as to what doing all of this will do in terms of developing Everton. Johan Cruyff on entering Barcalona declared they had "Real Madritis"- namely that they measured everything in opposition to a perceived (and in many ways actual) victimhood in relation to Madrid. They made themselves the opposite of Madrid, and allowed Madrid to dictate and dominate the context and direction of the conversation. Cruyff noted that you would never be successful as a victim and people had to learn to frame their own club on a set of values that were unique to them and based around a positive message.
This is a central message that is worth noting not just for the derby on Sunday, or the FA Cup derby but also more broadly as we look to grow and expand as a football club. The old adage that we couldn't care less what they say has to start being adopted more rigorously. They will do their thing at the other end of Stanley Park and may well make a great success of it, our job is to ensure our own club is living up to it's own maximum potential. Over the next two derbies it means defend for your lives and hope for a set piece winner, over the next 2 decades it needs to be re-connecting with the history of the club. There is nothing unique about the recent unbeaten run Liverpool have had, both clubs have had 3 or 4 examples in the history of the fixture of similar runs. They come to an end at some point. For Everton, it will only happen when we learn to control what is within our power and do a better job of it than what we currently are.