The end of the season is less than two weeks away.
The players and manager will almost certainly be jetting off to sunnier climes within hours of the team bus arriving back at Finch Farm after the Arsenal game.
We still have unfinished business to attend to and conclude.
Two matters of paramount importance that surely cannot and should not be allowed to go on into the summer.
The upcoming summer transfer window is the most important the club will undertake to date, we cannot go into that window with matters unresolved that could affect and influence the summer shopping.
So what is happening with Ross Barkley and Romelu Lukaku ?
Is Ross Barkley going to sign the contract offer before the season end or as the manager has clearly stated, if he doesn't, will he be sold ?
Romelu Lukaku, still with two seasons on his existing contract, hasn't actually said he wants to leave, but repeats all too readily his desire to play in the Champions League sooner rather than later.
With both these scenarios needing sorting out and surely before players and manager go on holiday, should Everton FC and its supporters start preparing for life after Rom and Ross ?
Lukaku scores goals and when he's really in the mood and given good service, he's arguably the most dangerous forward in the Premiership and right up there with the best in Europe.
Rightly or wrongly, those oft repeated wishes are seen as him wanting to leave rather than a commitment to working his backside off to get Everton into the Champions League in the next two years.
Everton have reportedly put a £100 million (or more) price tag on the Belgian snipers head and given he's favourite to win the Golden Boot as the Premierships leading scorer, will suitors with enormous cheque books finally come out from hiding behind unsubstantiated media reports and table one or more bona-fide offers.
But of more pressing and urgent concern is the situation surrounding Ross Barkley.
Barkley is a talented footballer, but there are still doubts among many Evertonians as to exactly what is his best position… deep-lying midfielder, attacking midfielder, in the #10 role alongside or slightly behind Lukaku, even the dual striker role?
Barkley is a local lad, a Blue through and through and surely would not want to leave his hometown club – would he?
At times though he looks lost on the field.
At times, he looks unhappy on the pitch.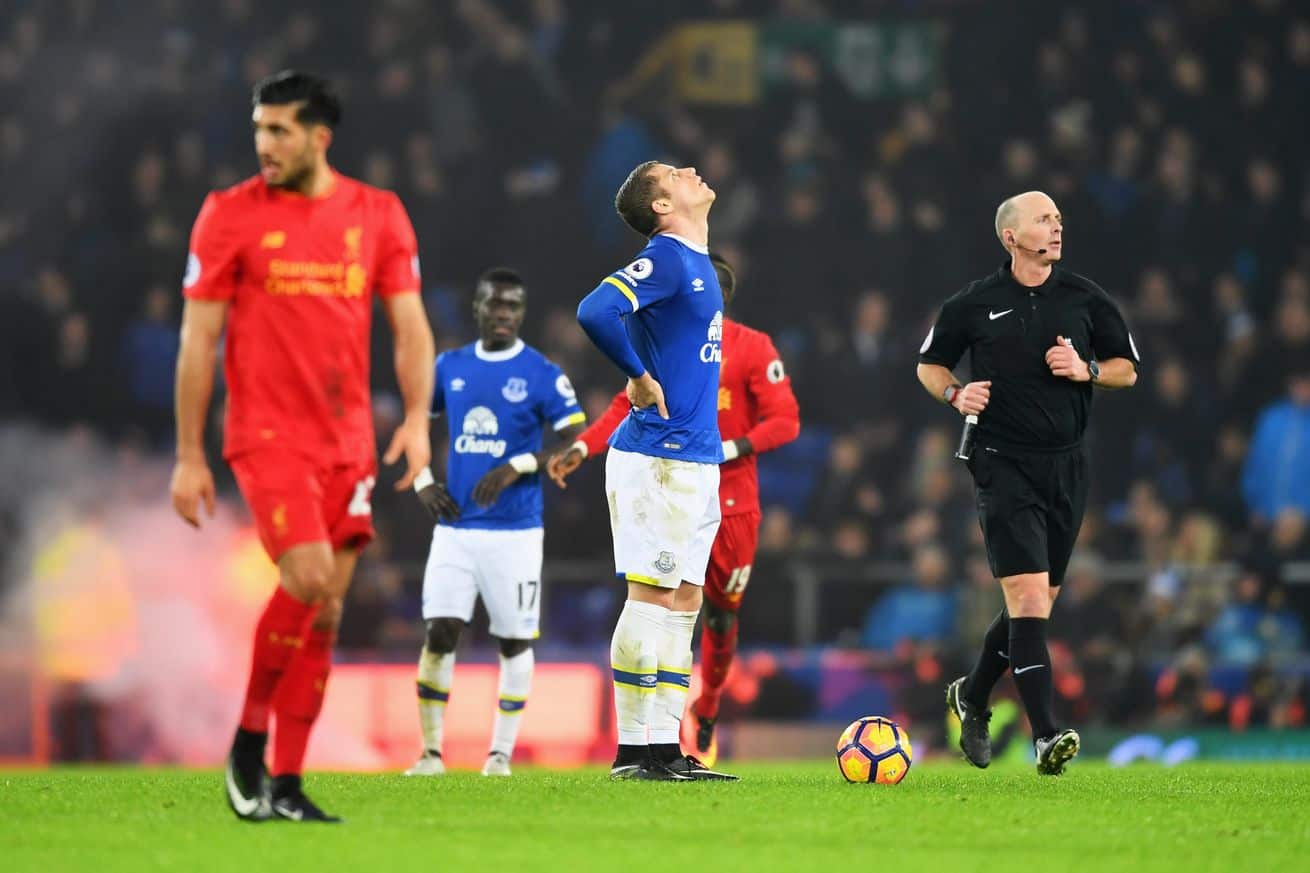 Too often, possibly feeling the pressure of expectation, he takes a touch too many and loses possession.
Or and preferably, he'll make an instinctive turn that bamboozles his marker; he'll play an instinctive pass; he'll instinctively break into space at pace and the crowd will be on its feet as he bears down on goal – desperate for the end product to be a bulging net.
Barkley can shoot with both feet – we don't see enough of it.
Barkley can dribble and beat people – we don't see enough of it.
Barkley can and has imposed himself on games – sadly we definitely don't see enough of this.
He's improving the defensive side of his game – note the goal line clearing headers against Burnley.
The crowd are desperate for him to reach the heights of Everton midfielders of the past – Ball, Harvey and Kendall to name but three.
The crowd are desperate for him to succeed in the Royal Blue of Everton.
The (majority of the) crowd will be heartbroken if Barkley is sold – as the manager has clearly intimated he might be – and he reaches the heights in the colours of another Premiership club.
There are big questions that need to be answered by actions…
Does Ronald Koeman think Ross Barkley is one of the players to build his new Everton team around?
Is Ronald Koeman keen to work with Barkley to see the local lad achieve greatness, indeed does he actually believe Barkley can achieve greatness and maybe even more importantly want to work with him ?
Will Ross Barkley sign the new contract believed to have been tabled ?
Will these questions be answered before the respective parties go on their summer holidays, or will they not leaving us mere mortals to fret, ponder and bite our fingernails to distraction.
There are doubters as to the whether Ross Barkley can or will reach the heights?
Has he got the application, determination and sheer will to succeed ?
Has he the mental strength to drive him through adversity and poor patches of form ?
And this unerringly leads to the questions I (personally) don't like to pose… should the contract offer not be signed in the next two weeks, should Everton do what Koeman has intimated and put Barkley up for sale ?
Would Ross Barkley be better off leaving Everton FC ?
Would Barkley blossom under Mauricio Pocchetino – Spurs have reputedly made tentative enquiries ?
Were Ross Barkley and Romelu Lukaku to leave Everton this coming summer, the monies involved would likely be staggering.
But equally staggering would be the immediate pressure upon both club and manager to replace them and add further quality signings to the squad.
The next two weeks are crucial.
The summer transfer window will be pivotal.
The over-riding ethic has to be Nil Satis Nisi Optimum – Nothing but the Best.
Evertonians are fed up of being labelled 'punching above our weight' or 'the best of the rest'.
We're equally fed up of being referred to as 'sleeping giants'.
Whichever way the situations surrounding both Ross Barkley and Romelu Lukaku pan out, there can be no more fudging around post the visit to the Emirates on May 21st.
If we have to be prepared for life after… the club and the manager need to ensure that the life after is the best it possibly can be.