"Pessimism of the intellect, Optimism of the will"
Antonio Gramsci in Prison Notebooks
The bi-annual occurrence of the Merseyside Derby has become for Evertonian's at least an exercise in routine humiliation. It is often remarked that there are 3 ways to approach a football match (or any other contest), hoping to win, expecting to win or expecting to lose. Over the last 15 years we have slowly learned to expect to lose. Rather than seeing the derby as a big game, an opportunity to restore local pride, cause an upset (a cup final as you were) it is now a game many Evertonian's could rather do without. As the initial quote elucidates, we need to be somber and pessimistic about what's gone before but be open to the possibility improvement can come.
As I watched Liverpool score the winner in the season's earlier derby I felt no overwhelming feelings of anger, dejection or unease only inevitability. We lose derbies. Seemingly however well we are playing or how poorly they are playing we still lose derbies. The fixture in December didn't fit those criteria yet even a barnstorming performance and result against high flying Arsenal couldn't translate to the derby as it has done in the 3 months that followed it. Coincidence? Well quite possibly in isolation, yet over the last decade or so there have been too many subsequent occasions for it to merely be a coincidence.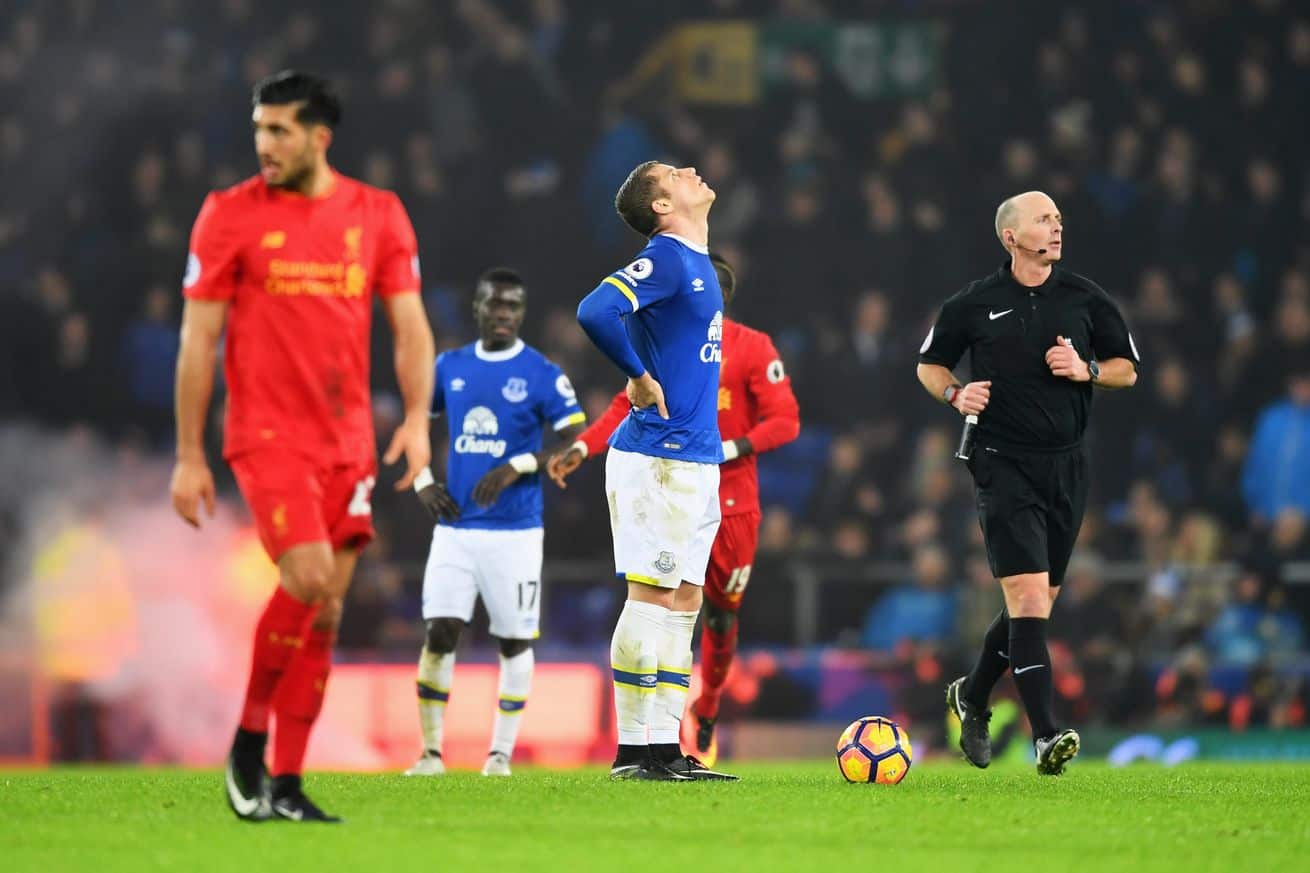 Watching us go deeper and deeper in the last 15 minutes of the game, and having an acute sense that a sucker punch was coming has become a learnt behavior and a behavior that is a result of a prolonged period of losing in derbies. Yet this wasn't always my experience. It is my own belief that experiences in childhood play an incredibly central role in formulating the life choices and personality we have as adults. The same is true for football. Your experiences of initially following your team will shape how you view them. These years are normally between 5/6-11.
My introductory years of supporting Everton were between around 1994-2000. Looking back 3 thinks stick out of that time:
1) we were awful and were going to be relegated.
2) we won a cup.
3) however bad we were we didn't lose to Liverpool.
While everyone's introduction to their team tends to be fraught, exciting and chaotic there was something unique in the 90's over and beyond the standard ups and downs of supporting a team. My initiation began with Everton needed 2 goals in 25 minutes to stay up, travelled through a cup win and European qualification, back to annual relegation dog fights in 97, 98 & 99. This provided a very unique experience, one which someone even 5 years older or younger would not replicate (the former experiencing the slow decline of a Championship winning team, the later the monotonous drive to security under Smith & Moyes) in their introductory years.
For the purpose of a Derby preview though, I was blessed with not losing them in that period. Joe Royle never lost a derby (and never looked like losing one). Neither did Kendall Mk3. No matter how bad we were (94 & 97 come to mind, when we bottom of the league cut adrift while they were in the top 3) we ran out convincing winners. We went the entirety of the 90's without losing a home Derby. In my final year of Primary school we lost and much like my education would never look the same, neither too would results in derbies.
Some reading will undoubtedly point out of successive spell without a defeat was 5 years and we have suffered 15 years of having a poor spell. It has taken a lot more bad years to finally overcome the in built arrogance I had that we would turn up and win against Liverpool. I put that down to me being primarily an optimist but also in the relativity of time. 5 years when you are 7 feels a lot different to 5 years when you are 27. Consider how recent something 6 years ago felt, then balance that against what the entirety of your time in Primary Education felt. The same time exists, yet people's experiences of this differ.
Pessimism of the intellect? This Liverpool team is a very good team. Perhaps not to the degree of eulogizing sections of the media (or the ex Liverpool players) would have you believe but it remains a team on course to get 70+ points which is the mark of a good side. More specifically it is a side that has excelled in taking points against side in and around them. So far they have not lost to anybody in the top 7 and as our loveable neighbors are keen to tell us, they have won the top 7 league this season. While we shouldn't point fall into the trap of considering this a real award to be substituted for an actual trophy (in lieu of supposed "European royalty" hurtling towards 30 years without winning a league) it is an important statistic. It shows us that if you are in the top 7, your hardest game this season will be Liverpool.
It's easy to see why this situation has arisen. In his early briefing notes on strategy Klopp noted he would "drag sides down to our level before beating them". Whilst at Dortmund, Mainz and now Liverpool he has reveled in being the underdog. Like Everton it is clear Liverpool players and fans revel in this role. There is something inherent in Scousers that when the chips are down rather than turning away, people re-double their efforts. That seeps into both clubs. Yet like Everton they do look uneasy with the favourites tag.
Klopps tactics reflect this mindset. His game plan could be simplified into one word: "run" if you were to use 3 they would be: "press, tackle & intercept". All of them are about making life more difficult for opposition players. When it has worked well it has been a frightening sight for opposing teams. Arsenal and Spurs were recently blown away by the high press. Last season Manchester City, Chelsea, Dortmund and Villareal had completely lost their heads under the well executed strategy of Klopp's Liverpool. For Koeman he must look to Mourinho's United, who stifled Liverpool to a 0-0 as the best way to prevent such a head of steam being built up. He approached the game as Burnley, Swansea, Wolves or Plymouth did and was rewarded accordingly. While Liverpool excel at "heavy metal football" there is a nagging doubt about a lack of guile in such games.
The good form shown is not just a tactical question though, it is at least in part down to a strong mentality that exists with the squad of Liverpool, a squad which I maintain on paper is no stronger than our own. They haven't a goal scorer as good as Lukaku. Their goalkeepers are not as consistent. Our full backs are better and Ross Barkley is the most natural talented midfielder from either team. They have eeked more consistency from their mercurial stars (Coutinho, Lallana & Mane) compare to Mirallas & Deulofeu, but that loosely links to the point I'll make. The key differential between the squads does not lie in ability or technique but in mentality and ability to produce big performances under pressure. Lallana, Milner, Wijnaldum and Henderson are all leaders. Firmino while unspectacular is very adept at pressing defenders from teams who want to play out. These lads drag the others through and ensure they left their game for the big matches. Whereas we freeze, they rise.
As if this is not enough, for Everton the preparation has been far from ideal. The loss of Coleman as he was showing his most consistent form for at least 4 seasons is a body blow (when we talk about mentality he is one of the few for us who has "it"). Schneiderlin pulling up injured and no McCarthy means the possibility of Barry, which given the power and fitness of Liverpool midfielders would likely overwhelm Everton. His introduction was a key factor in the Goodison Derby defeat, preventing Everton from being able to play at the required intensity.
Optimism of the will? In spite of the difficulties highlighted it is crucial we don't lose site of possibilities we face. As I stated at the start of the article, sequences do end, and opportunities to build ones own record of wins are presented to football teams. Everton's good form in the 90's came off the back of turning around a record against a side who were the bets club side in the world over a 20 year period. This is a good Liverpool team, yet it is a long way from those sides we faced.
We also have everything to gain from this fixture. We have to start changing the way we view derbies. That is not necessarily going from expected to lose to expecting to win (though that would be a great help) but viewing it as just another game to get where we want to be. Being able to avoid being bogged down in negativity is an essential trait of any successful dynasty. I am reminded of Cruyff who on arriving at Barcelona said they had to re-jig their attitude towards the al powerful Madrid (which he labeled Madriditis). It led to a victim mentality and ultimately victims will never be successful.
You sense Moshiri is on board with this idea, and his first disciple Ronald Koeman is himself a protégé of Cruyff and learned with him at Ajax. Koeman is a winner and will not be cowered by 18 years of failure at Anfield. He may not win at Anfield on Saturday, but he will change the way we approach the fixture. Even an adversity he doesn't deflect from the core idea that you take responsibility and control what you have control over. On the recent Lukaku episode he was almost blasé in his retort that he hopes he will stay but it's up to the player. When comparing that to the huge negativity that surrounded players leaving under Moyes and the voluntaristic optimism that Martinez presented (but ultimately could not keep too) it is a refreshing third way position. Everton's job is to compete for trophies, keeping Lukaku will help us greatly however if he goes we will get others in.
For Koeman you feel the next two games will go a long way to finalizing how he feels about players. So far the season has been a success (relative from were we have come from) but he is not going to want to stop at 6th or 7th. As he said at his first press conference "I left (Southampton) because I don't just want to finish 6th". The impending top 7 finish feels like the first step on the journey under Koeman, as opposed to the end point for Moyes. He will learn more about his players on Saturday than he did in the 10 game unbeaten run that came in the New Year. If we want to get to where Koeman wants to get too, we need to go to grounds like Anfield and Old Trafford while giving a good account of ourselves. On Saturday we get to test who can deliver under pressure, which is a crucial skill only learnt in high pressure situations.
I have always curiously held Gramsci's statement of "pessimism of the intellect, optimism of the will" as embryonic of a much wider world view than he intended when he wrote it from the prison cell of Mussolini's Fascist Italy. It was the reflections of a man who had lost his liberty and saw no need to sugar coat this, yet never lost faith of opportunities that could arise. Even in the most pessimistic situation there are ways to look forward positively remains a key idea that would benefit Everton's outlook on the derby, and probably more broadly than that.
In the face of this seasons gruesome derby record and the strength Liverpool's form against the top 7 there should be an understanding the task facing Everton is enormous. Yet on Saturday opportunity awaits. We can close the gap to 3 points against a side who at the turn of the year had 14 points on us. Do this and heads will falls off at Anfield while you sense it could be the making of Koeman's young Everton team.