---
Elliott Bretland submitted the following article. Want to write an article for GrandOldTeam? Just give us a shout here.
---
Ask Evertonians what qualities they will be hoping to see in any new arrivals and you can expect to hear a lengthy list.
The desire would be for a leader, a player who boasts a winning mentality, bags of passion,an eye for a killer pass and an impressive goalscoring record. That would be the ideal. An added bonus would of course be a natural affinity with the club.
Fortunately for Blues fans there's one player out there who boasts all of the above and then some. His name is Wayne Rooney.
It's a complete no-brainer the former Toffee should feature high on Everton's wish list for January. Failing that we should do all we can to get him back in the summer.
In a bizarre quirk of fate, Rooney had a real chance of becoming Manchester United's all-time record goalscorer when the Red Devils face Everton at Goodison Park – of all places – on Sunday.
However, after picking up a booking in the EFL Cup quarter-final victory over West Ham, he is suspended for the trip to Merseyside.
That record will be broken soon though – he needs two goals to overtake Sir Bobby Charlton – and then it is job done at Old Trafford.
Since leaving Everton for United 12 years ago, he's done it all. Champions League? Check. Premier League title? Check. FA Cup? Check. Captaincy? Check. Place in the Hall of Fame? Certainly one day.
If this was the gaming world, you could say he's completed Manchester United. Back in L4, however, he has plenty of unfinished business.
It is understood there has been brief contact between the two parties – Rooney returned for the testimonial of his childhood hero, and good mate, Duncan Ferguson the summer before last – and Everton could do far worse than to re-sign their former boy wonder.
As Ronald Koeman recently revealed: '[Rooney] still has season tickets at Everton, because he's a good friend of Duncan.
'Duncan has asked me every day, "can we get Rooney in? Can we get Rooney in?"'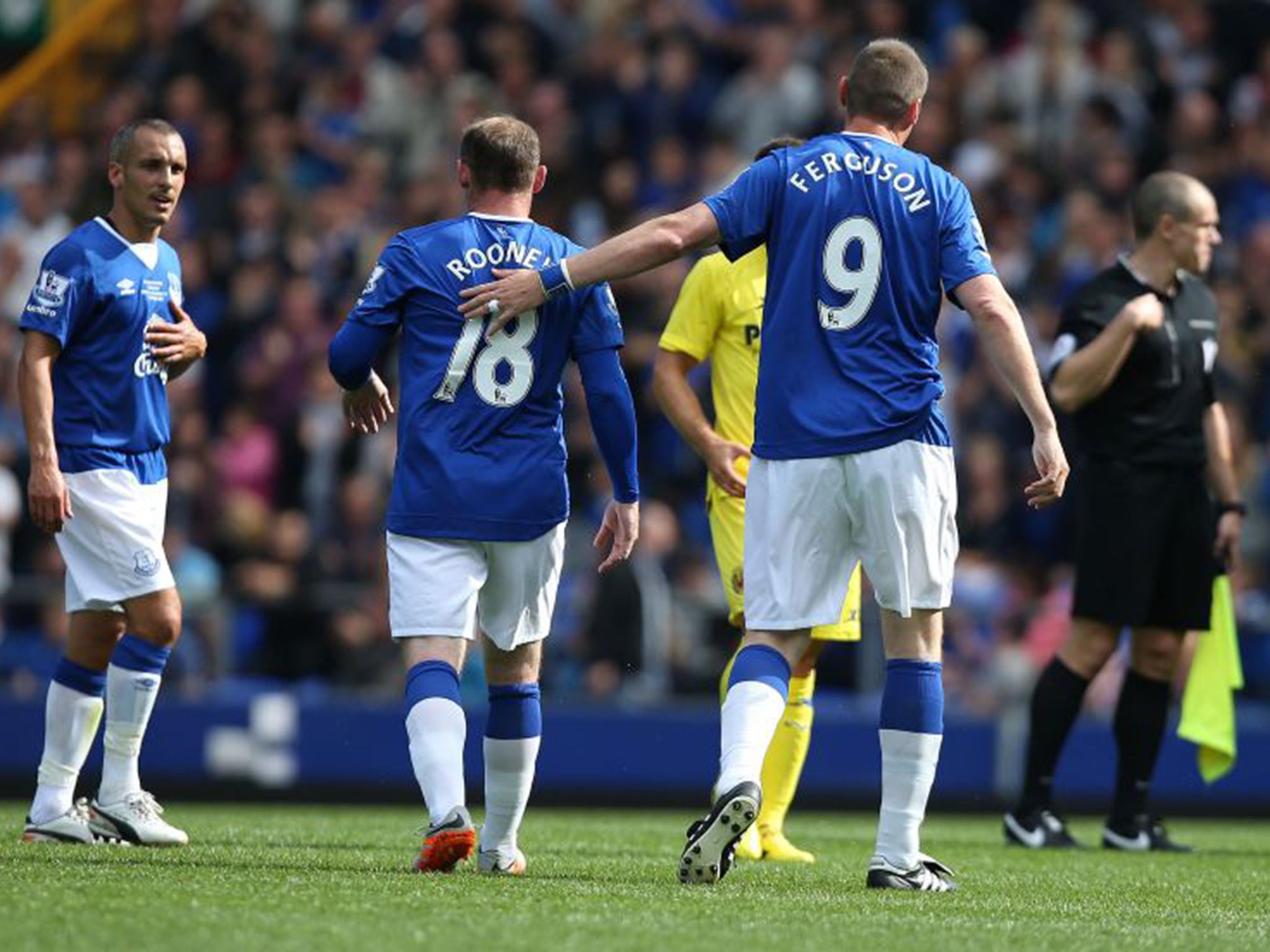 While Big Dunc is keen some fans can never forgive him for jumping ship. Others will insist he has fallen well below the required levels needed. As. If.
Yes, Rooney has struggled for form in recent seasons but he has only dipped from his own extraordinary standards.
We would not be signing a player at 36, 37, 38 on a one-year deal. Rooney is 31 and, while he may have lost his electric pace, he still has the vision and know-how to be an important player.
The raw 16-year-old's talents we witnessed at Goodison Park all those years ago – let's be honest, he was just ridiculous, the player of an entire generation for sure – should have seen him now on par with Lionel Messi and Cristiano Ronaldo but, for whatever reason, he's not in that elite standing.
However, he still possesses immense quality and has all the attributes that would improve the current Blues squad massively.
His experience would be invaluable to the likes of Romelu Lukaku, Ross Barkley and Tom Davies – everything came naturally to him and he would surely be able to improve the game of our young stars with expert guidance during training and matches.
Meanwhile, his taste for success would surely have a positive effect on a club that has not won a trophy in 21 years.
Never mind what he could do with the ball at his feet, Rooney, a bona fide global superstar, could single-handedly boost the profile of the club around the world in an instant.
Football is a business these days and Rooney's impact off the pitch could be vital to the club's growth.
As depressing as this reads, Rooney has an astonishing 22.5 million more Facebook likes than Everton's official page and 13 million more followers on Twitter.
Should he return, the name of Everton would be on the lips of millions of football fans around the world.
Rooney is still big business – imagine the shirt sales, the numbers of people across the globe who would adopt our club as their Premier League team.
A pertinent stumbling block is of course his astronomical wages. Any comeback would depend on Rooney's love and empathy for the club and Everton stumping up enough cash to reach a compromise.
However, that love is still there.
A scouser knocks Liverpool of there perch. Haha. An evertoniian aswell. Yes. People. U can't imagine how happy I am tonight. Believe

— Wayne Rooney (@WayneRooney) May 14, 2011
Rooney dresses his young sons in the Everton strip and takes them to home games, invited us to play in his own testimonial, returned for Big Dunc's special day as mentioned and who can forget his glee after knocking Liverpool 'off their perch' having helped United to their 19th title?
As well, United would have to agree to his departure but may decide to let their captain leave and link up once more with his former club for the final years of his trophy-laden career.
Despite already collecting so many medals, winning another with Everton is something he would certainly relish – he'd rather come 'home' than go abroad for a money-making spell in China or America, surely?
It is understandable some fans can never forgive him and would prefer he stayed in Manchester.
Yes, he left and yes, it was his choice. He even kissed the United badge. Now though fans should cut him some slack, 'forgive and forget', for our own sake; he could be a huge help to Everton.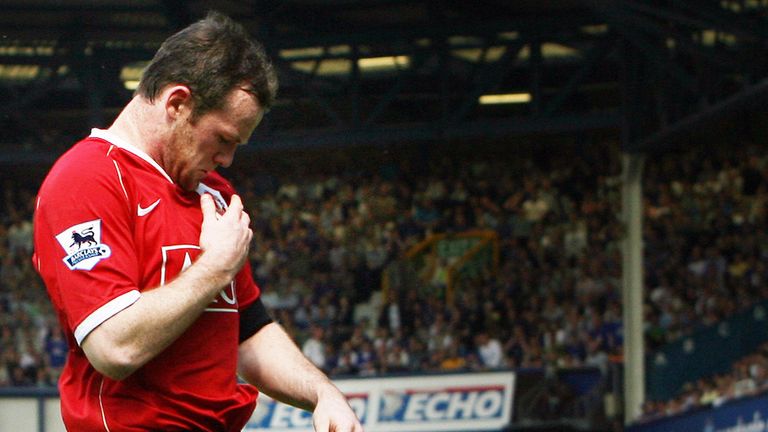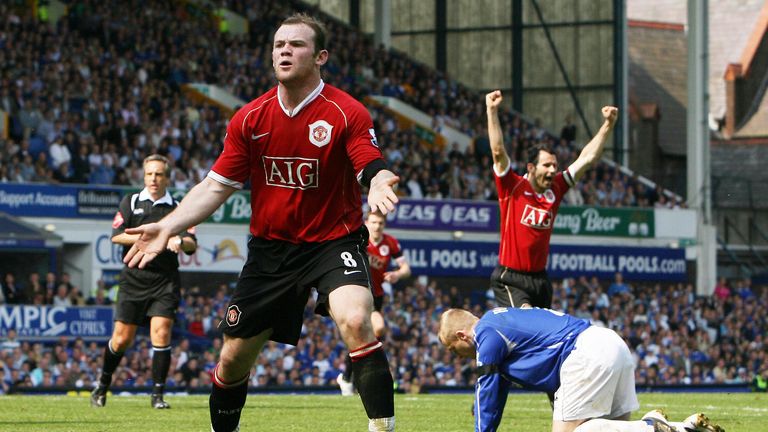 Rooney jumped ship for Manchester not because of a disregard for us and our club but because, and this is the cold hard truth, we were not capable of helping him reach his full potential. He was a world-class talent. He deserved the chance to go and win the lot and he's done it.
However, now, the star striker and his boyhood club are more of a match, capable of winning silverware together.
Just as the £27million fee we received for his services in 2004 helped take us to the next level, Rooney could again help push the club further forward than any other signing.
He's done it all in football and has conquered the Theatre of Dreams. It's time for him to achieve and enjoy success with the club he adored as a kid.
This is not a nostalgic plea to see the raw 16-year-old wonderkid from Croxteth who scored that goal against Arsenal back in a blue shirt. This makes perfect sense for Rooney and, most importantly, Everton.
Make it happen, Mr Moshiri.