"Coz we're the team, that's gonna win the FA Cup (AGAIN), we shall not be moved……."
However watered down it has become, the world's greatest knockout competition returns this weekend. The FA Cup 3rd Round, arguably the best footballing weekend in the calendar, sees QPR make the pilgrimage to our beautiful Goodison Park.
Now, before I carry on, you'll notice that it is I, and not that there Chico who is mixing poignant and cliched words together and forcing out a match preview. As is GOT tradition of sorts, Chico has allowed other lids to take control of the cup games. Ijjy did a fine job with Milk Cup duties and I hope I can offer something here now. Let's hope this trend continues for me all the way to Wembley in May.
Anyway, the festive period has come and gone with Everton taking 7 points out of a possible 12, starting with Swansea and finishing with Stoke. Should we have done better? Possibly. Did we play some super stuff at times? Absolutely.
The draw with Stoke brought with it some negativity from our fans, but for a lick of paint from the woodwork (twice) following Mirallas's strikes we'd be still in that Holy Grail of Top 4. For what it's worth, I think we're absolutely sound League wise – just look down the M62 to see another home defeat for the "Chosen One" to see problems. I know which situation i'd rather be in.
To Saturday then and away from League football, it's cup action back at the Old Lady. Christ do we want/need a trophy. Our manager of course is the current holder of this competition from his days with Wigan and we are certainly hoping lightning strikes twice for him.
19 years is it now? Far too long Everloan Athletic, far far too long. There'll be lids who support us and go the match who were still swimming in their Dar's ballsack when we last won something. That simply has to change and no doubt this manager is aware of that.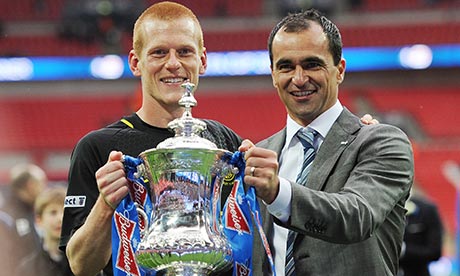 So who be it that roll into town to fill an away end singing 'Sign on' and 'We Pay Your Benefits' – it be the once named 'boutique' club of London, Queens Park Frigging Rangers. I say 'frigging' as it is more of a polite way of what i'd rather say and that, for me, these represent somewhat of a bogey team. My first match in 1993 as a six-year-old, a 3-0 home defeat to QPR. My first away experience, a 3-1 defeat at Loftus Road in the 95/96 season, the very season Everton, ironically, were FA Cup holders. These are the very definition of awkward.
Whilst being awkward, they have a collective of absolute wetwipes associated with them. Firstly, let's start with owner Tony 'The Tone' Fernandes. In he comes, flashing the cash buying mediocre players on astronomical wages. He was very much like that lad in your year at school, you know the one, his Dad was an executive for some Pharmaceutical company. He had the doh and could buy him some sound Copa Mundial boots. He was the Jozy Altidore of strikers, while you, the Aguero of your school, had to try and boss it wearing a pair of Gola's from Greaty Market.
'The Tone' tried being all sound by sitting with the fans but soon sacked that off when they were adrift at the bottom of the league last year. Tit
Secondly we have tea bag face himself and all round media whore, Harry 'I wish I was a Kray' Redknapp. You know when people questioned Roberto's ability, citing his relegation, they forget that the journo's favouirte has taken 3 different teams down.
Little story about him to. I have a mate who worked at quite a high level on behalf of a certain bookmakers. Prior to Van Persie joining United, they received a phone call from someone wanting to bet £20k on him leaving Arsenal for the Mancs. Naturally, as any bookmaker would do, they investigated such a large stake before processing it. They're no mugs the bookies and after some digging it turned out the phone call was made on behalf one Harrison Redknapp. He would of won £100k or so as two months later, Van Persie was a United player. Greedy greedy bellend.
Finally we have Joseph 'The Scouse Wool' Barton. I wanna like Joey. At heart he's a working class lad who aims, in his head at least, to do good. In reality, he's got far too much baggage to win over any hearts – not that he's arsed.
They have a few decent players but nothing that should really worry us. I like that lad Charlie Austin upfront. Scored goals at every level and would possibly do a job for a Premier League side. He'll eventually end up at West Brom or Newcastle. The rest of the squad makes up a who's who of Premier League deadwood, names such as Shaun Wright-Phillips, Junior Hoilett and ex-Evertonian Richard Dunne. Christ, they have Yossi Benayoun & Jermaine Jenas as well. I can't be arsed working out who'll play for them if i'm honest. They won on New Year's Day and are aiming for promotion so my guess would be they'll rest a few as the cup won't be a priority.
To the Toffs it is. Surely we go for our strongest possible team here? Roberto has chopped and changed over the last few games. I'm sound with that as we keep hearing players can't keep playing successive games. I'd really like to see us put on a slick display we are capable of. If anything, just to give the players the belief they can be ruthless in front of goal if they want to be.
We need to step up and in particular, Mirallas, Pienaar and Lukaku need to improve. You could maybe suggest tiredness for Lukaku, but if he wants to be like Drogba, he needs to take the game by the scruff of the neck like him. It's not a criticism, but rather a willingness is needed from him to take advantage of his potential. Mirallas, well for me, he's been ranging from average to below average, him and Pienaar have looked incredibly sloppy. That lack of confidence could be crushed in this game though for them – let's hope.
By comparison, what a revelation Alcaraz is. As is 'Stone Cold' John Stones. That lad is a player by the way. If Dizzy isn't back don't worry abar a thing, these two are sound. Gaz Bar, who after his least impressive performance for us against Stoke , will continue alongside McCarthy. The full-backs to keep their places and perhaps a return for everyone's favourite Costa Rican, Bryan 'Bryz' Oviedo.
In all seriousness now, imagine Wembley in May and Jags lifting the trophy? It's certainly possible and with a manager now who has won something, be it this very trophy, would would back against Everton? We want that moment and i'm of the old school thinking that a trophy would mean more that a 4th place finish. This manager though will be going for both – no doubt.
Let's make this a start of an FA Cup run that will see us turning the captial Blue & White come May. Let's get excited about genuine good-times, glory-times coming back. Let's dream about decorating your house on Cup Final day and turning Merseyside blue. It's about time Everton – and it all starts Saturday.
Solo lo Mejor