It´s going alright isn´t it? I think it´s going alright isn´t it? Is it going alright? It´s probably going alright. Isn´t it?
After two draws from games we probably should really be winning in the league we now have the distraction of the Capital One Milk Rumblelows Coca Cola League Cup. A competition we´ve yet to win, but hey, times they are a changing round here so who knows?
The 0-0 draw against West Brom on Saturday has split Evertonians opinions more than ever. We remain unbeaten in the league, have created enough chances to win 17 games in the last 2 matches, and have Ross Barkley. For me, yes we should be winning, but it will come. And it bloody better start this Wednesday.
The League Cup, as i´ll refer to it from now on, is a funny old thing. We´ve nearly won it, and in fact it´s weird that we have not. The list of teams that have won it is a little bizzare for one reason or another. Whether you remember Oxford United somehow snotting it in the 80´s or a Savo Milosevic inspired Aston Villa slotting in the 90´s, you´d think just by pure luck we´d have had a look in. But alas, we have not.
Last season at this stage we were thrilled by a brace from the new Goodison Stepover king against Leyton Orient, and there may well be a new Stepover Prince in this similar game this season. But more on him later.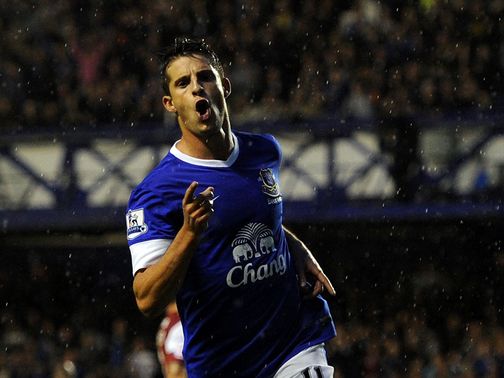 After beating Orient last year we were kicked off the park by those grots at Elland Road (and we´ve never seen Junior since!). Michael Brown though. I mean really.
This years Leyton Orient comes in the form of Stevenage FC. Certainly not Stevenage Borough FC as I thought they were still called when I started writing this. Which is handy as it was difficult to fit everything into the thread title as it is.
And I definitely didn´t think that Stevenage was near Wales……OK I thought Stevenage was near Wales. Turns out it´s one of those weird suburbs and boroughs of London (honestly this was all news to me) which means we will have the absolute worst sort of cockneys coming up north on Wednesday. Fake cockneys. You know the type. In the summer they wear espidrils and those chinos i´ve seen that for some inexplicable reason have elastic around the bottoms of the legs. No idea why. The Ben Sherman army will be in force for this one I have no doubt with that indescribable Gareth Bale haircut.
The town itself is just there really. Gabz, that little girl who stole all our hearts on Britain´s Got Talent last year by wearing a onesie and a Snapback and telling is to pur our lighters in the air, is on the list of notable famous people from the town so that´s pretty much all you need to know.
Our opponents will be coming off a decent result at the weekend. A 1-0 win away to Notts County is probably the League One equivalent of what we should have done at Norwich. However, they currently sit 18th in their fledgling table, with just those 3 points to show from their 4 games so far.
I´m not trying to make this sound easy as it won´t be. We´ve seen too many Oldhams, Ian Bogies and Nigels Jemsons in our time to know not to take this for granted.
Looking through the Stevenage squad and there are not many familiar names. Usually such teams have a player we probably watched during Premier League Years over the summer, but Stevenage do not seem to. A couple of names do stand out in their squad, Felipe Morais from Portugal and Dani Lopez from Spain sound just the sort of player us Evertonians would get excited about if we were linked with them and they played for Real Sociadad but we´ve never seen play. James Dunne and Jon Ashton (captain) add the steel into what is a team that have done exceptionally well to be where they are considering they were only founded in 1976.
You´d expect a fair few changes for this from an Everton point of view. I´d like to see the aforementioned Stepover Prince Gerard Deulofeu show us exacty what we are in for this season, as well as Robles in nets, and Kone up front. God we are so nearly the Wigan wiggle it´s best not to dwell on that. Be good to see the Andrea Pirlo at the back in place of either Jagielka or Distin too. Sorry, I meant John Stones there. Possible even the 5 at the back madness.
During his Wigan days Roberto Martinez liked to give youth and fringe players a chance, with the likes of Callum McManaman shining in their FA Cup win last year, so I see the same for us. Let´s hope we have the same result too (apart from the horrific relegation part of course).
It´d be nice to see our name on another Wembley programme and realistically this is a good a chance as any. We´ve had a kind draw in the 2nd round here, so let´s use this to our advantage and get some confidence for our up coming league games. We all want another trip to Wembley and if Martinez wants to win over every single Evertonian winning this will probably do it.
Let´s do this.