Dubbed The Next Michael Carrick
After handing Garner his debut as a 17-year-old in a 3-1 win at Crystal Palace in February 2019, then Manchester United Manager Ole Gunnar Solskjaer said :"I believe he's got the chance to have a great future. He knows we believe in him, we've got great faith in him as the next Michael Carrick. I know he's young and I know it's not fair on kids to compare to great players like Michael was, but he's the same mould, he plays simple passes, plays through the lines."
From Birkenhead
Born in Birkenhead, but we won't hold that against him.
Nor the football team he supports…
A number six, or an eight… or a 10?!
Garner believes he has proven he can "definitely play in the Premier League" and is confident he is versatile enough to fit into a variety of systems.
Speaking in July 2022, Garner said: "I feel like I'm a midfielder that can do pretty much everything. I feel like I can play in the six or eight role.
"Last season I played in the 10 role as well – I'm not saying that's what I prefer, but I'm saying I can play in that position if needed – so I feel like I offer everything that a midfielder would need.
"I feel like I do have the qualities to play in either the six or eight role. I think they would only benefit me as a player.
"Depending on the formation the manager would like to play, I can fit into either role."
Nottingham Forest Success
Garner spent 18 months on loan at Nottingham Forest.
He initially arrived with Forest only three points above the relegation zone after managing just four wins in their previous 17 games. His influence was key to Forest safely finishing the season nine points above the drop zone;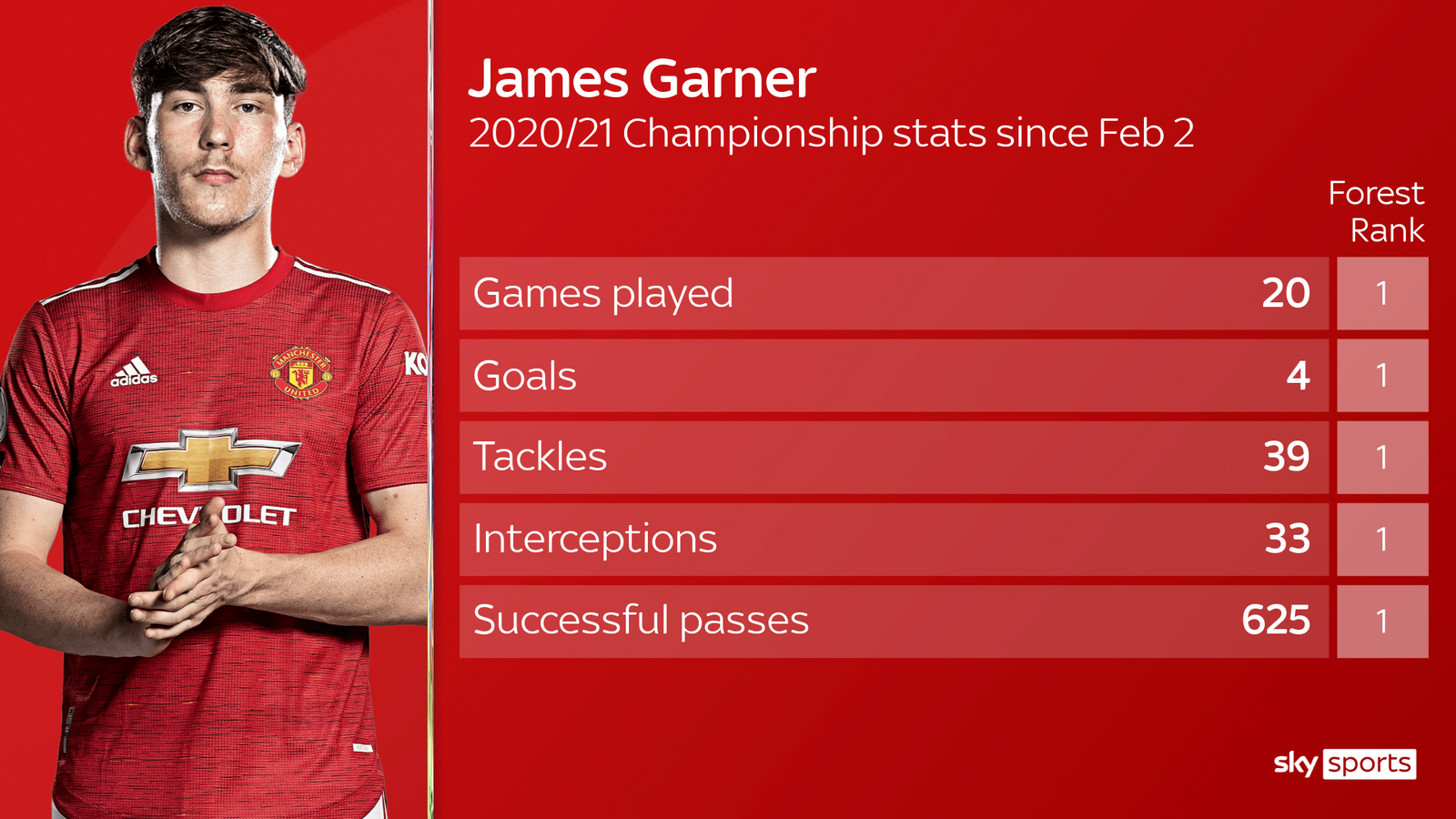 So impressive was his first spell, Nottingham Forest agreed a deal to loan him again and he played his part in the promotion-winning campaign of 2021/22. He registered 10 assists last season; with seven of those coming directly from set-piece situations. The United man also helped himself to four goals across the campaign.
Nottingham Forest reportedly wanted to sign him permanently, but Manchester United's new manager Erik ten Hag wanted to judge whether Garner could be part of Manchester United's first team. This delay, forced Nottingham Forest to buy elsewhere, and for Everton to jump the queue for Garner's signature.