In time to come we'll all look back on the year 2020 and remember it for our own reasons; a year when our liberties were taken away from us, a year when our lives weren't necessarily our own and a year when Everton Football Club sat proudly at the top of two tables over one beautiful weekend.
It was mid-September and Everton had just gone and won away at Crystal Palace – a victory that meant the Toffees unbeaten run continued as we climbed to the top of the Premier League, a little over 24 hours later Everton were now moving up the music charts as Evertonians pushed Spirit of the Blues above Miley Cyrus and to the top of the iTunes chart. The Twitter bandwagon grew, the 80s feel good tune was downloaded in its thousands and much to the dismay of the Miley Cyrus fans, who did not see the Everton wrecking ball coming in the distance.
Despite all of this, there is an incident more bizarre than any, a moment that could so easily be missed but sums up the oddity of the year 2020 – Everton at home to Brighton & Hove Albion, Gwladys Street end, when Alex Iwobi bursts into the box and plays a low ball to the back post for James Rodriguez to knock home Everton's third of five – if 2020 was a footballing scenario this would be it. Before this summer if somebody would have had the audacity to predict Alex Iwobi would be assisting James Rodriguez for Everton they would have been carted off for a few weeks in a padded cell.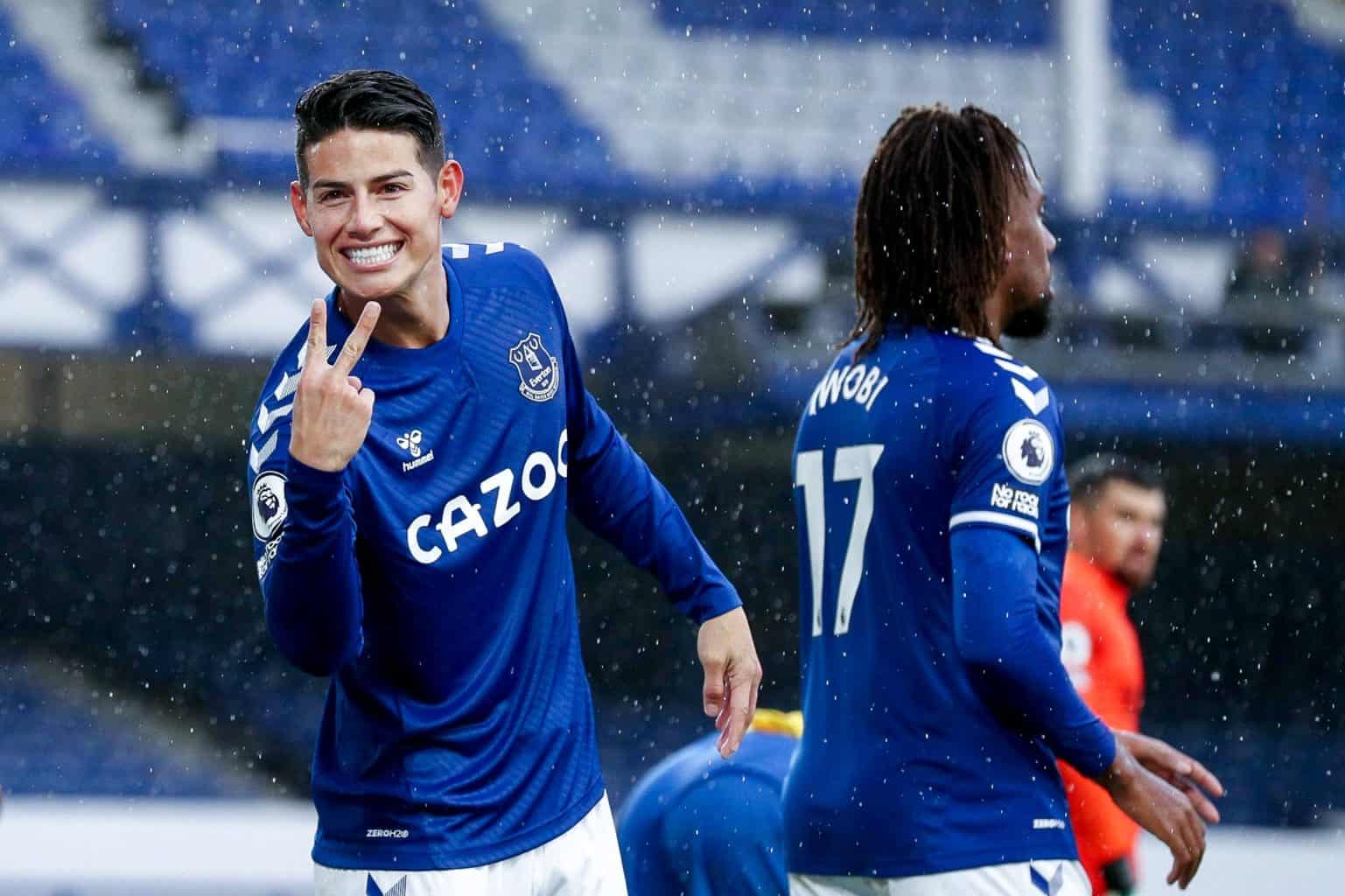 But here we are, the first international break of the new season and the Blues sit three points clear at top of the league – a 100% record, scoring for fun and with a place in December's League Cup Quarter Final secured – it is the perfect start. Usually, as the Premier League exits stage left, to make way for the international fixtures Evertonians take a sigh of relief. Usually it is a needed break from the dross we have been served up by the likes of Silva, Allardyce or Koeman but not this season.
The break is also a good time for reflection and what a glorious few months it has been to reflect upon. The signings have been top drawer – Ancelotti walking through the Finch Farm doors must have been met with delight in Brands' office – he was no longer dipping into the B&M bargain bucket to pull signings out for previous managers but this time he could grab the cheque book and head to Harrods.
James Rodriguez signed for Everton Football Club. That is the calibre of signing you can make when Carlo Ancelotti is your manager. The naysayers will throw plenty of objections at the transfers – age, injuries and lack of game time since he burst onto the scene for Colombia – but ignore those people. Those people are clueless. You always hear of the need to adjust to a new league or a new team but James won't hear of that nonsense, he has seamlessly adjusted to life in this Everton team, to the Premier League and in the midfield of Carlo's champions elect.
The James love in aside – Brands and Carlo further addressed the need for midfield reinforcements by bringing in Doucoure and Allan. For far too long our Toffees soft centre has been detrimental to progress, you simply cannot progress in the Premier League with a first-choice midfield duo of Tom Davies and Gylfi Sigurdsson. These signings not only massively improve our midfield but have changed the dynamic of the team, no longer is Calvert-Lewin isolated – chasing loose balls or flicking a header on to himself but he has real service from his midfield and it is paying dividends, big Dom can't stop scoring – nine goals including two hat tricks and it is only October. Plenty of time left to reach Carlo's target of 30.
Late swoops to sign Ben Godfrey from Norwich and Robin Olsen from Roma completed the best transfer we have seen for many years. There were outgoings too we finally moved Sandro on from his ludicrously expensive and lengthy contract, Kieran Dowell moved to Norwich on a permanent deal with Moise Kean, Theo Walcott, Lewis Gibson and Dennis Adeniran all moved out the Club on loan spells.
The results so far have been outstanding the 100% record speaks for itself. The performances haven't been far behind either, it has been goals' galore so far this season. The Evertonian appetite was already whet with anticipation due to the summer signings but after the away win at Spurs the momentum rolled on. West Brom, Palace and Brighton in the league while Salford, Fleetwood and West Ham all succumbed to the Toffees in the Carabao Cup.
So, it is on to Saturday, the return of the Premier League – which, incidentally, Everton currently sit top of – and the small matter of a Merseyside derby. If there is ever a fixture to suck the optimism out of an Evertonian then it is this one; we've tried everything to rid ourselves of one of our most unwanted records that we currently hold – trying to come out with three points in a derby. Relations with the neighbours have soured, somewhat, in the recent past and continue to do so but it irks every single one of us that no matter we do, which manager or squad turns up we just cannot get the better of them.
It is long overdue but the again it has been overdue for about eight years – nothing will ever give me confidence going into this game, not even the fact we sit top (just so you don't forget) or that we have won every single game so far this season. Not even DCL at the top of the scorer charts or that James Rodriguez is a blue and he is boss. None of it. Carlo is a magician, but this is an illusion that even Paul Daniels might struggle to comprehend.
The one big factor that Goodison will be missing is the fans, even those of us with little imagination could muster the scene – a high noon showdown, unbeaten Everton against a Liverpool team walloped 7-2 by Aston Villa last time out: the sirens. Z-Cars. The roar.
After all it is 2020 – we couldn't, could we?