Right – stop looking at pictures of that new Everton Ladies bird, things are getting serious in the Toffees European conquest as the boys travel to Germany to take on the not bad at all VFL Wolfsburg. And no, I don't know what 'VFL' means. Nobody does.
So far Mr Martinez' Everton have taken to Europe like the veritable duck to fancy foreign waters. Dispatching all comers left right and centre. Except when we go away and get exactly what is needed. Points. And what do points make? No don't.
Thing is, we've got Samuel Eto'o in our European squad. Let that sink in. It's not really fair on the other teams. I feel like we should loan them a few youngsters just to try and even it up a bit. Sammy Ets is making the difference in these game. The way he presses the through ball button (triangle if memory serves me right) to put through the striker reminds me of better Pro Evo days. But he does it in real life. The smiley boss man.
Oh and mega lols…..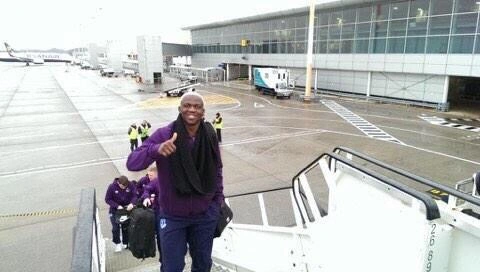 Probably important to mention the opposition here. We basically had the most unconvincing 4-1 ever over Wolfsburg in the home game. Tim Howard had his good game for the season and we were very very clinical. VFL Wolves are a very decent outfit make no mistake.
They started the season very Everton, but have since won a shed load of games scoring a lot of goals. They have a number of decent players, from Kevin De Bruyne who people seem to bang on about but i'm yet to see what the fuss is about, to every faux Football Managers wet dream Ivan Perisic, to the rather boss Ricardo Rodriguez who impressed majorly at Goodison. They are no mugs at all.
They currently sit second in the Bundesliga. Which is basically top as Bayern don't count.
They do have a few weaknesses though. Diego Benaglio in nets is the very epitome of dodgy foreign keeper. Marcel Schafer isn't getting any younger….oh and…
Wolfsburg as a town sounds like the dullest place I've ever heard of. And I live on Southampton. It's got Volkswagen and a castle. That's about it.
So let's just get this out of the way.
I hope Everton Passat the ball around well, and that the Jetta to Germany got there safely. What's that, your breath smells? Better have a Polo. Whilst listening to the Beetles. Erm…. something about Golf.
Thank god that's out of the way. It's still a big town in Germany though, so it will definitely have boss beer, birds who sound like men but you still would and meat. German meat though.
Onto the L4 4EL Wanderers. Woh…..we have EL in our post code. We're winning this.
Baines, Naismith, Barry, and so on and so on are out. The season of injuries has taken it's toll as we've not exactly hit top form at any point yet, whilst still being pretty well placed in league and Europe.
Hibbert may well start at left back again, and while he performed admirably against West Ham's utter grocks at the weekend, he does hinder one of our main attacking points when he's there. McCarthy will kick lumps out of their midfield, possibly with Besic to assist him, or Osman god forbid. Naismith's injury should see Ross go back where we all want him, behind Lukaku. Enough of this playing players where they don't play already.
Robles in nets of course. I joke, Howard of course in the sticks.
A win tonight sorts it. And we can play a load of kids in the home game against that made up Russian team in the last group match. Just don't go thinking it will another 4-1. These lot are good. But so are we. And we have a Sammy Ets. They don't. It's not really fair.
Oh and this guy has previous with them. Imagine he gets the winner.
​