Quite a few Evertonian eyebrows may have been raised when James McCarthy was revealed as an Everton player on September 2nd last year – mainly because of his £13m price tag. But after his first season at Goodison Park that fee is looking like an absolute bargain!
The former Wigan man has cemented his place in the center of our midfield after continuous back-to-back outstanding performances alongside Gareth Barry – another player who shone last season whilst on loan from Manchester City. Without doubt making the midfield pairing two of the first names on Roberto Martinez's team sheet.
And the start of this season has been no different for McCarthy even though some fans may feel that he may not have been at his best in our first couple of fixtures, that was certainly not the case on Thursday night against Wolfsburg.
The 23-year-old was outstanding, involving himself in the set-up play for the opening goal, tackling, closing down the ball and doing what he does best – covering every blade of grass.
McCarthy completed an incredible 98% of his passes during the game misplacing only one!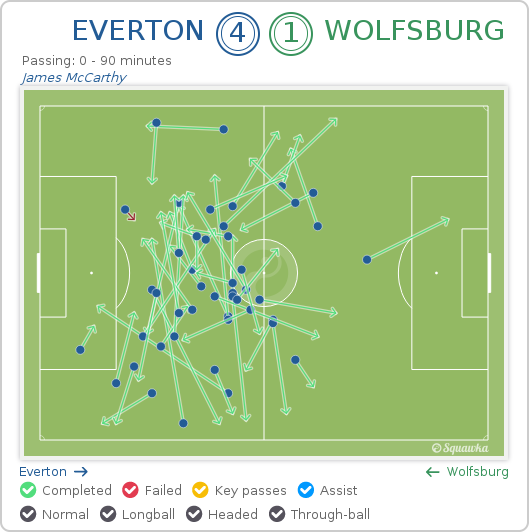 image via @Squawka
He was back on top form in the Europa League opening group fixture and game after game he's proving what a mature player he is for his age and I'm sure many other Everton fans besides myself can see him being a future captain of ours as he's already shown that  he's a natural born leader.
McCarthy didn't give up from the start and kept running until the final whistle, chasing the ball and making tackles but there was one in particular that was posted all over Twitter after the game and it was this tackle in injury time…
It's no surprise that hes catching the eye of Premier League rivals such as Manchester United and Tottenham but I can't see him leaving anytime soon and hopefully Everton can get this new contract on the table soon so we can keep him tied to the club for many successful years to come.