That old saying in football when a new manager comes in. Let´s see where we are in 10 games. So, where are we?
Many, myself included were highly sceptical about Martinez as a replacement for Moyes. Sure, he´d won the cup but a week later, he´d been relegated. Surely we should have been going for a manager with a winning pedigree to take us on? Happily, so far at least, those fears have proved unfounded. A more than decent start to the campaign sees us sat a point off second place, albeit with a whole clutch of other sides.
Since his arrival, there have been one or two things that have really endeared me to Martinez. First and most importantly, he always goes into a football match trying to win. No such thing as settling for a draw in Roberto´s vocabulary. If something isn´t going well on the pitch, he´ll chamge it. This has been highlighted by positive, attacking substitutions made early enough for them to make a difference to the outcome of the match. See West Ham, Villa and Hull as prime examples.
Secondly, the way he speaks about football, Everton and his views for the future, you can´t help but be drawn to the man. Whilst under Moyes there was often the tag of plucky little Everton, doing well to keep up with the "bigger clubs" at the top of the table. Point of order Mr Moyes, no club in the world is bigger than Everton FC, not to us anyway. With Martinez, you can see he has a vision of is being the big boys. Obviously he´s under no illusions of it happening in the next year or two but he has a plan to get back to the top of the pile and he wants to go about it as a footballing side, not a group of scrappy battlers.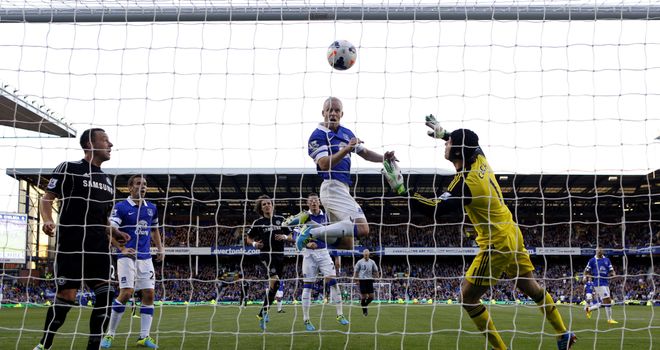 Perhaps the only criticism you could level at Roberto was his dealings in the transfer market. Bringing in Lukaku, Barry and McCarthy on deadline day were all good deals although two are only loans and you could maybe say we´ve overpaid for such a young player in McCarthy, although early signs of the lad seem promising. The acquisition of Joel Robles as a proper backup to Tim Howard has perhaps pushed the Taliban bearded American to his best form in an Everton shirt.
However, the signings of Kone and Alcaraz aren´t quite as positive. £6m is a fair sized transfer for a club in our position and the fact he´s played so little football so far isn´t just down to injury. He looks to be struggling to adjust to the step up in quality at Everton. Time will tell whether he makes the grade but age is also against him. Alcaraz is doing fairly well to pick up a healthy wage for his daily massages and ice baths.
Moving swiftly on, it would be remiss of me not to mention youth. After years of being told by the media that "Moyes gives youth a chance" (aye, until they give away a penalty and then it´s straight back to the reserves with you son), it´s wonderful to see Ross Barkley given a chance to show us just how good he actually is. Obviously he´s a year or so off the finished article but being given the responsibilty to provide our creative spark will do him no harm at all. If this is the level of faith Martinez shows in youth, it´s safe to say players like John Stones, Hallam Hope and Chris Long will soon be knocking on the first team door.
So, ten games into the Martinez reign, where are we? Evidently we´re a way off the finished article but for the first time in a few years, I find myself looking positively towards our future and wondering how far we might go, as opposed to being stuck in a sort of "best of the rest" purgatory.
Allez allez allez oh….