So that's done then. You can't put the sh*t back in the donkey can you? So we have to do what we have to do.
Take a step away from your Everton obsession and you'll see it how the rest of the footballing world sees it, there's not many people in football management who could turn down the Manchester United job. It will be a tough task but it's one of the pinnacle positions in the game so if you've got some ambition then it's going to have some pull on you isn't it? No matter what emotional attachment, if any, you have at your present club.
There's no point in second guessing how well he'll do, we'll find out in due time but in reality who's really arsed anyway? Moyes leaving Everton would have made headlines for a day or two but right now we'll be buried under the media juggernaut of our previous man being the first new boss at United in over a quarter of a century. Everton being left without a manager is small fry to that. It's a sad indication of where we are and what we have to do because when Ferguson took that very same job he would have probably gave his rest testicle to get the plum job at Everton at that time who were one of the best club teams in world football. While Moyes could only dream of a phone call offering him the chance to partner Kevin Ratcliffe at centre back.
We all know what's happened in the interim so no need to drag up some mismanagement and missed opportunities that you've already buried in the recesses of your mind. But Everton being boss is the end game, and that's what we have to somehow engineer.
There'll be a plethora of emotions for most blues right now with our manager leaving. Some relieved, some angry but most will be apprehensive. With good reason too, were not in a good financial position to push on from where we are and it's very likely that the past few days events will usher in a period of meh for the club. It took a long time to killing the anxious hand tremors watching Everton after Walter Smith and the years preceding him.
There are some relative plus points, whoever takes over will find an Everton in much better nick than the one Moyes found. This is due in large to Moyes' control of the club rather than the board or ownership themselves.
We have a talented team and good youth system. It's all there to kick on but the gigantic elephant in the room is money. Whilst we were generous enough to pay Moyes top European wages were not in the same position with players, nor the money to acquire them. So any new man has a bit of a job to do which considering the meltfest in modern football management is a tough task. The board got lucky with the appointment of Moyes as the right man for the right time, can you see us getting similarly lucky again?
There's been plenty of criticism of Moyes. The sh*tting it in the big games, persistence with dull footballers and prior to the last couple of years an over reliance on methodical but effective football. This overlooks some of the great qualities he did have such as being incredibly consistent; look at the league finishes and ability to grind out results. We'll miss that. No one turns over Everton so easy anymore whilst most clubs just below us in the league are ripe for a good beating every now and then and slides down the league when getting in a rut.
In the absence of a crystal ball we can't tell what's coming next. No one outside of Everton will give two f*cks what Moyes' legacy will be at Everton as they'll all be spaffing over him taking over one of the biggest clubs in the world. So what you or I think will be have no bearing or seemingly any significance.
I'm a bit disappointed only in Moyes devaluing the Everton job with his actions over signing a new contract. We deserved better than that but it's his right to do it. He's been paid very handsomely for his time at the club and had great backing from the fans.
He was the right man at the right time for Everton and worked incredibly hard to move the club on but ultimately we rate our managers on winning things – as at Everton we always should – so he'll in the same ranks as Gordon Lee. No shame in that at all –we´ve had some good times together and he´ll be remembered fondly.
The names thrown in the ring to take over don´t really inspire confidence do they? But then in the same way that Moyes will have a tough time filling the boots of Ferguson, the same will be of Moyes´ successor here.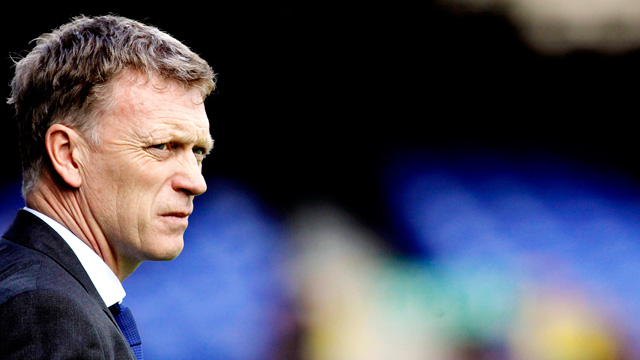 It could all go to sh*t as it often does but there's little you or I can do about it. We've got some dramas in the summer to look forward to and the media circling our better players every other day.
But we've also got a new era of Everton to look forward to, and it's been far too long since we won something. That has to be the priority of any new manager coming in.
Nil satis nisi optimum lids, even if it seems those skies seem a little grey at the moment.