Pre-season was a strange one especially with the tour being cancelled. Two mickey mouse games against Blackpool and Malaga that I wont go into however the AEK game will long live in the memories of this current generation of Evertonians.
Tony Hibbert´s testomonial can only be described by saying the said when Hibbo scores we riot so thats what we did and a decent strike it was to! Oh and a hat trick for new boy Steven Naismith.

Okay so first game of the new season, couple of good additions to the squad, new Nike kit ana packed floodlit Goodison Park to welcome our old foes from Manchester. United looked up for it and even with Carrick as a makeshift centre back looked well prepared in their warm up, however they were not prepared for Fellaini from the kick off until he got a deserved standing ovation with minutes to go the Belgian was unstoppable and the performance worthy of his goal. I didnt realise how big he is until the after match interview with him and Jags. Phil who isnt small himself was looking up at Felli and you could see how pleased they both were. Talking of Jags he formed a great partnership at the back with Distin with Johnny H on the bench. Distin´s pace for his age is second to none and is such a valuable asset another Moyes bargain.

So then our first away game to one of my favourite away days Villa Park. I have said it before and I will say it again it is hard being an Evertonian but when we are great we are great. The bookies had us down for a draw that day well the records will show different the game was over at half time. Goals from Pienaar with a brilliant opener, a second goal in a week for Felli and our own striking hero possibly one day legend Jelavic tied things up by the 43rd minute. Steven Pienaar´s efforts in this game were tremendous and it is interesting to see how different we are with him in the team again, if Arteta was worth £10m what is Pienaar worth to us as I honestly believe if Arteta came back he wouldnt get in the current starting 11. On into the 2nd half we continued to knock it about played a sensible game, Villa lost Ciaran Clark for a last ditch tackle on Jelavic and had to go. Villa pulled one back but the game was dead and buried, I had every confidence if they got another we would have stepped up a gear.

So that was it for the League in August, it was finished with a Capital One or League Cup to you and me game against Leyton Orient, now whenever we are boss I sometimes worry about lower league opposition it can completely bugger things up and put our league form down the pan. I needn´t of worried after thousands of blues were late for kick off it didnt take long for the boys in blue to turn up pretty much annihilated the Os with ease and a special mention to our new boy Kevin Mirallas definitely has the potential to be one of Moyes´ super buys.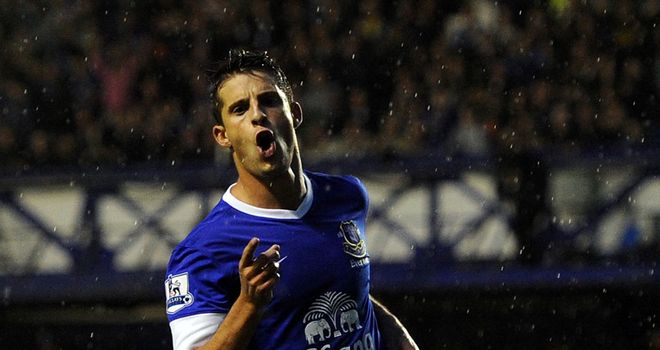 Five without Felli and ey up is that beer going to my head???? double vision!

So on into September we go lets hope the next 24 hours are kind to us in the transfer market.
September fixtures:
Away Sat 1st 15:00 West Brom
Home Mon 17th 20:00 Newcastle
Away Sat 22nd 12:45 Swansea
Wed 26th League Cup TBC
Home Sat 29th 15:00 Southampton.