It's that time again. What type of time it will be will depend on either Chelsea's proficiency on the day or how much we get into them and toey their hoops into submission. It's the kind of backdrop that is made for Goodison Park but sadly this won't be under the floodlights.
We've made a habit of doing well in such games over the last couple of years. If you cast your mind back to before that and a criticism of Moyes' teams was them not being able to secure points off the best teams in the division. Chelsea easily brushed us aside in the reverse fixture and in fairness most decent teams we've played this season have done the same. There was something about that City victory which made sense though, we still have the players to bloody the nose of the mighty. And that gets us going. How dare they have all that money and boss players? We remember when you were sh*te, like for example, most of your entire history. Before I get electronic headhunters coming on here threatening to slash my boat race, I'm not talking about Chelsea. We're not going to plastic flags you like the bells across the other side of the park. On the whole we know you were ace, Kerry Dixon slotted like f*ck.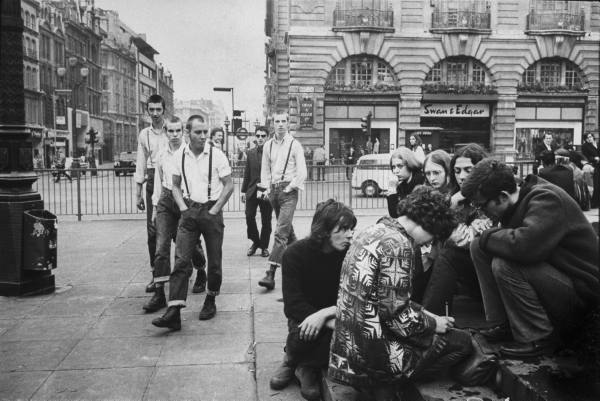 Whilst Wigan was a bit of a comedown there was still some things that point to a brighter immediate future. Our quality of football improved by merely having Pienaar in the side, the ace little thing. We were hampered by our achilles heel: being sh*te up front. That's it really, how many games do you see Everton get an early goal to settle their nerves then go on to win comfortably? When was the last time you was watching an Everton game safe in the knowledge that there was no way the opposition could get back into the game? We need a virtual dose of valium, a game where we go three up with some time left on the clock. It won't be this game obviously and my three game example could be disputed by the visitors with their previous game fresh in their memories.
The poor man's Moutinho has had a stop start season for Chelsea in his first year there. They've had some notable results but have not got any sort of consistency going and have dropped into that little niche under the top teams of the best of the rest. Quite frankly that's not enough for Abramovich and his vaults of dollars. One thing I do know is never trust a man with a ginger beard, if he's so good at the plethora of decisions needed to run a professional football team then how does he get the big decisions wrong? Plus he looks like he smells heavily of Glade or Shake n Vac.
The hordes of Chelsea have different elements. Obviously we base a lot of what we think on personal experience and I know a couple of Chelsea lids who've been watching them long time and they're quite alright. After being a yo yo club for quite some time it must be superb to have prolonged period of being relatively boss like they've got now. There are some other elements, like the thick gold chain hanging out of their designer t shirt types who auto fellate on sight of the Union Jack. The entirety of their fanbase online are seemingly all from Lagos. Strange mix that.
They've won just one of their last four, with draws away to Swansea and Norwich included in those results. We've just got to go at them. None of this respect the opposition and play a tight game. Go on, rag them Everton.
Easier said than done with the fine array of players they have mind. Juan Mata is doing well in his inaugural season in England. He's fresh off that conveyor belt of boss small Spanish play makers and if given any space to dictate the player he rarely disappoints.
Frank "Frankie" Lampard is back for this one. With his ace shooting from outside of the area he's Tim Howard's personal nemesis. I've never taken to Lampard, he's got it all and has an air of smug about him. Not unlike the kid in school who got the prized job on the lemo van and was first with Reebok Pump due to the proceeds. Word is he fingered the fit girl in the year above whose head you´ve secretly been morphing onto Jane from that dog eared copy of Escort you've got stashed behind the radiator. John Terry is out for this one. England's captain was deemed worthy enough for the manager to throw a strop and quit. Are you arsed one jot? Me neither, but it would be rude of me while talking about Terry to not point out that in a modern age of helmets, they don't come much bigger than him.
Essien is a fantastic midfielder, as complete as they come but with half the hype of others. Mikel might be fit and if so that's one powerhouse of a midfield who'll face our customary five. Raul Mierles has been doing a job in there and by that I mean looking like a bad Jackass cast off who drinks strong vodka and smears his own sh*t all over the wall at parties. Mental. You have all that money lad but you look a proper tit.
A defence of Bosingwa, Ivanovich, Cahill and David Luiz is not to be sniffed at but is not likely to get through ninety minutes without delivering a couple of openings for you. They must be looking forward to an afternoon of Tim Cahill running into them every time the ball is the air and trying to claim they fouled him. It works from time to time, let's hope it does this weekend.
Stracquilarsi was never gonna score a hat trick against Wigan like many expected hot on the heels of his City performance. I think if anything he's a slow burner this one, Chelsea will be telling on how his progress is developing. It's nice to have options up front, well sort of options, like choosing between marmalade or marmite for your toast from an empty fridge. We're all dying to see a big Everton striker slot for fun as it's been too long. We may see more of Jelavic in this game and Anichebe isn't doing himself any harm from the bench in a role where I think he's more effective for the time being.
As is often the case we'll be hoping Fellaini is up for this one as when he is we tend to win these type of games. Rodwell is one week closer so it will be interesting to see if Moyes brings him back or remains with Gibson who's been unspectacular and moody pass extraordinaire so far. I´m not being purposely churlish, I'm sure he'll improve with time. He could well however develop into another Emperor's New Clothes as some of our midfielders do.
I actually wouldn't mind seeing Pienaar in the middle as most of our good play comes through him. That would allow ambitious wings in Donovan and Drenthe. Probably not to Moyes' prudent taste this one and maybe Chelsea would swamp our midfield. Maybe when we're two nil down then.
The defence should consist of Neville, Heitinga, Distin and Baines. Speaking of the latter, isn't it cute to see him so excited at the return of his friend? If Pienaar doesn't stay on at the end of the season I'd be mightily surprised to see Baines remaining in royal blue next year.
Oh and Howard you tit, you can cut that sh*t right out.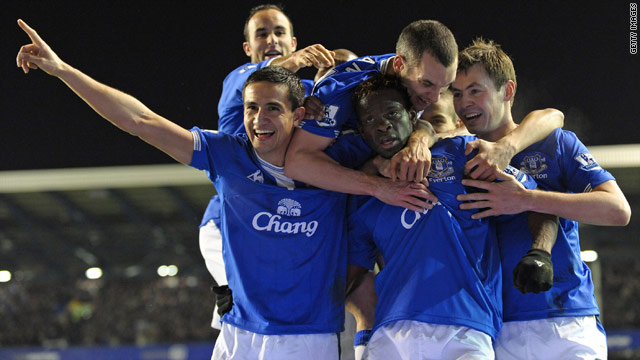 Enough of the prediction of doom. We´re mostly positive at the moment and with good reason. We will defo play better football in the second half of the season and it will be hard to score less goals than we did in the preceding half of the season. We´ve got some tough games to come but they´re mostly at home and if we put Chelsea to bed then we might just get some traction.
No team enjoys coming to Goodison Park in the recent era. If we get the right combination of players and fans up for it it´s about as hostile as a Huyton wedding. We need that from the off on Saturday and if them some time tremendous bastions of royal blue keep their part of the bargain then we´ll be in with a shout.
Best get toeying those hoops Everton.