Head down to Goodison Park you lucky boys and girls for an extravaganza of gen-u-ine Premiership association football between the Everton and the Rovers of Blackburn FC.
I´m not looking forward to it either. I´m not sure whether it´s a case of meh or actual trepidation that if they beat us it will open up a wormhole in my mind that will swallow Everton whole.
Aston Villa was a nailed on draw as it always seems to be down there. Typically we were probably the better team but our inability to put the ball in the net hampers us once again. Double drats. Einstein himself said that the definition of insanity was doing the same thing time and time again and expecting a different outcome. Perhaps this whole Saha and Cahill project is an indication of a bad dose of the madness overcoming the boss manager formerly known as David Moyes.
Blackburn are dire, they really are. The team are dire, the manager is dire and the town is dire. Contemplating reincarnation terrifies me that I may be reborn in a town which the only redeeming feature is a boss pub for away fans. It would send even Charles Dickens to acid.
This has not been one of their best seasons as until recently they were stuck on the bottom. The sideshow has been the campaign to get rid of Steve Keen by their fans. The one hundred and twenty eight brain cells in Blackburn have been grouped together and showcased by screffy fellas holding pieces of cardboard with "KEaN oUt" on it. Luckily they always have a saviour lurking in the background as Tony Parkes will be dusting off his tweed jacket to take over as caretaker manager for the twenty first time when Kean does eventually go.
Kean is one of the dullest managers in living history but has he deserved it? That´s for Blackburn to decide. It was one year ago that a Blackburn fan was taking time out from eating a rancid butty to excitedly tell me that the glory days were returning and his mate had text him to say Ronaldinho was on the way. The dirty finger nailed scrote even showed me the text. Unlucky there.
Their takeover is the stuff of nightmares. The Indian chicken farmers came in with all that razmatazz and talking a good game. I got a bit suspicious when I send one of them looked like he was auditioning for a baddy in a seventies 007 movie. How could he be so successful at business yet lack such awareness? Maybe he is so nails that everyone´s scared to tell him he looks like a tit. The promised investment hasn´t really happened although we´re in no place to mock as they´ve probably spent more on players than we have in a long while.
One thing that irks many is the rejuvenation of Yakubu. The rotund supposedly finished lazy boss slotter moved for 1.5m and has been one of the scoring sensations of the season. I miss his big wide grin and timely goals. Fortunately he went and got himself sent off so he´ll sit this one out.
Samba is mammoth of a centre half who´s a well rounded defender and a major pain to mark in any set pieces swung into our box. He´s asked for move in the transfer window. Blackburn have turned around and said that their captain is not for sale at any price. In Everton talk that means last day of the transfer window and stories of the price being right and wanting to move on.
There´s a few other players who are alright on their day but the other one really of note is Junior Hoilett. He´s fast and dangerous on the counter, he´s Canadian and he´s apparently worth twenty million pounds. Is he sh*te like but the pace thing is something we lack in our centre half pairing a present, despite Villa failing to expose it. This has got 28th minute counter attack goal and tsunami of groans all over it.
Or has it? We should have more than enough to put them to bed. Currently Saha and Cahill up front as are competent as an Italian captain in shallow waters. Each week I foolishly champion some player who´s not in the starting eleven as our saviour. Last week it was Drenthe, this week it´s Vellios who scored a hat trick for the stiffs mid week. Him and Anichebe or Donovan or someone up front. Everton scoring a goal are what makes the plethora of dirge otherwise worthwhile. For one brief moment everything in the world is ace. There haven´t been enough of them this season.
Midfield is a straight forward one. Start with the same four as last week. Drenthe the crazy fool was at his worst but this is the type of game that if he´s up for it then he´ll persecute the opposition defence. Donovan had his best game so far against Villa, full of energy and using the ball well. The pass for the goal was just boss. Gibson made a steady debut and we´ll get to see more of what he´s about in the next few games. It´s a much better alternative than Neville or Heitinga. Fellaini really needs to kick into gear as if he does then we´ll start dominating midfields and he´s not been all that this season.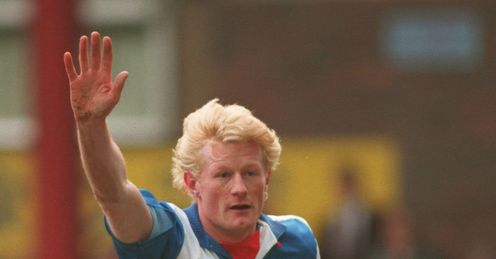 Credit to Shane Duffy, he came in and done really well for a first start. Not that there´s an alternative but regardless he deserves a run of games alongside Heitinga who splits opinion more than olives as a credible salad option. He has been playing consistently well for a number of games now and his reading of the game came in handy a few times last game out. Neville will remain at right back and Baines will be on the left.
Blackburn may be buoyed by a home win last time out against Fulham but that´s nothing really to crow about, we even beat Fayed´s 11 at their own gaff. If ever a game called out for an early Everton goal it´s this one.
We´ve let too many poor teams take points away from Goodison which hasn´t gone down well with the locals. I long for the days of a run of the mill two nil. Not unlike what Spurs done to us last week. The air around the club is stale at the moment and desperately needing Walton´s finest to give us some winter cheer. Lose this and the crap Everton flashbacks will be too vivid to handle.
Over to you Everton.