What better way to start 2012 than a trip down the M6 right into the heart of 1972. Where winning Bully´s star prize would move you four rungs up the social ladder.
The away game that makes Suarez sweat like a dog´s foreskin; welcome to The Black Country.
It´s just what you want with that hangover you´re planning to have, a half twelve kick off on New Year´s Day. Thank you Sky.
We´re far from buoyant but we´ve picked up four points from the last two games as we´re desperately looking to get some semblance of a run going. Most of you would have took the point against Sunderland before the game but I couldn´t help feel a little let down as the home team were mostly turd and anyone with any sort of confidence would have come away from there with three points. I find that blanking Distin´s last kick of the game over their bar out of my head helps somewhat.
Still, saying that we can´t grumble at taking a point when we start the game with six defenders on the pitch. In a throw back to the Walter Smith days were trying to be obstinate rather than attacking away from home.
Which sets us up nicely with a trip to a West Brom team that have done fairly well this year, prompting Hodgson this week to state that he considers them similar to Everton now being a well established Premiership side. Way to go pissy kecks. For as crap as we are, there´s no one that can boast stability in the top flight like us. And that´s got to count for something right? Right?
West Brom are on something of a run at the moment have collected away wins over Blackburn and Newcastle before becoming the first team to deny Man City a goal on the weekend to gain a very credible draw. No easy feat that.
They´ve got a more than useful squad and are not shy of a goal or two. Thanks largely to possessing something we don´t: an attacking threat. Peter Odemwingie and The Shire´s Shane Long are putting together a good partnership up front. They both possess good pace, will work hard and know where the net is.
Captain Brunt is pretty under rated, a consistent performer who is a dangerous threat from long range and is important in their build up play. As well as scoring far too many goals for an average player against us, Paul Scharner reinforces the stereotype of all Austrians being mostly elektro trance loving sex pests. The type who will be all over your bird at Linekers in Tenerife when you´re at the bog, then pretend to be your best mate when you return.
If they do have a stand out soft spot it´s at the back where Gareth McAuley, Billy Jones, Jonas Olsson and Sally Gunnell´s lesbian sister are likely to start. I don´t think they´ll lose much sleep over our forward line however.
Get ready for washed out denim jackets, the distinct scent of Brylcreem and boing f*cking boing. Speaking of boing boing, do you think that your average Pyongyang resident existing on a minimal food ration will be too impressed at voting the fattest person in the country in as glorious leader?
Onto Blue Star Walton. Moyes has been making snide digs about the forward line referencing the quality of crosses that most forwards would love to run onto. Louis, that´s mostly aimed at you mate. So why start Cahill again? The outcome was predictable, he should be from the bench only for the time being as it´s where he´s mostly to have most success from. It´s unfortunately a game too early for Landon Donovan who we´ll be relying on to try and kick start the goals. It wouldn´t be a surprise to see McFadden start up front, hopefully Vellios will be around the squad as he looks the only forward we have to have a goal in him. If sense prevails then Osman should start behind whoever is picked.
You can only hope that some of that money promised from Arteta is released and thrown entirely at a centre forward this January.
Fellaini is likely to miss this one too but before you start having flash backs of Heitinga and Neville in the middle it´s likely that Rodwell will start. He´s done well this season Jack but still hasn´t dominated an opposition´s midfield, now would be a good a time as any to start. Drenthe´s stepovers last time out were utter dung but he´s still got to start as he´s capable of making something happen and that average defence I pointed out before won´t be fancying their chances against him. It may be a game too early for Coleman too so how about we do something radical like give Ross Barkley a chance? I´m sure he´s over giving away a penalty against Blackburn by now, plus he can play a bit so we hear.
Not sure whether Distin will keep his place or if Heitinga will slot back there, while Distin´s pace will be useful against their front two it was Heitinga who was looking out most composed centre half for a number of weeks there. Baines and Hibbert will be full backs and crap bearded Howard between the sticks.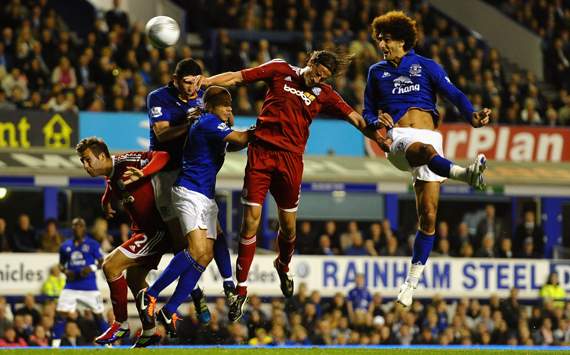 We made tough work of it but eventually put their B team out of the Carling Cup this season, but we didn´t earn a single point off them last season. So not many of us will be expecting an easy game.
It´s all a bit dull at the moment as were firmly consolidating our place in the also rans. 2011 won´t be a year that will hold any affection for most blues so I´m glad to see the back of it. Let´s hope that 1972 is kinder to us.
Happy New Year.