A difficult start to bommy night, up there in that north east with the crap motorway access and police straight out of the stasi handbook.
It´s a date that always make me wince after a David Platt inspired Villa taking us without lube at the end of the eighties. You just knew that the good days where over when you were hoping to see if Beagrie scored so he´d do a somersault, such was the lack of exoticness in footballers of that day.
This match concludes a run of tough games that we done pretty crap in, all things considered. The Fulham match apart, we´ve dropped down the league to where were looking over our shoulders and hoping our form kicks in some time real soon.
I´m not too sure if it was United looking very average or us looking good last game out but regardless they left with the points so for all of that pressure it was pretty void.
Problem is that were neither proficient in defence or attack at the moment and that´s a losing formula. Obviously we´ve just played some strong opponents but it´s a bit deja vu as far as November league placement goes over the last couple of years.
We probably would have been looking at this game and ear marking it as where we´d start the revolution and picking up points, as it precedes a series of supposed more winnable games. That was until Newcastle drank whatever we did prior to 2004/05 and are grinding out results on a consistent basis. Well done to them, they were tipped to struggle.
They have ownership problems of their own with ruddy faced Mike Ashley not being too popular up there in south east Scotland. Pardew has won over many of the fans by losing a couple of his better players but starting the season very well indeed.
There was a time not too recently when Newcastle used to do our head in. Revelling in their media title of everyone´s second team (I´d personally hate that) they were full of zany zany antics and made the fatal error of trying to look down their noses at us. SHEA-RER, MAN. Then it went tits up, fat shirtless tears were shed and the humble pie of the Championship awaited them.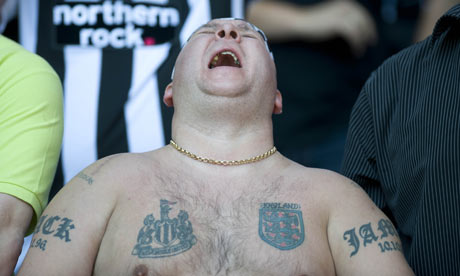 They bounced straight back up and maybe it´s just me but have been a lot more pleasant. As they should, as if you bump into geordies out and about they´re generally decent company to be around, very preferable to the majority of England´s assorted bells.
Player wise, we wouldn´t pay Ba´s wages and he´s responded with eight goals in nine games for them. He has the same slotting instinct as Yakubu had before his achilles vaporised. There may be question marks over how long Ba´s knees will hold out but as things stand it´s good business and I´d say a bit of regret on our part.
That Cabaye is a player isn´t he? A cracking piece of business, a classy accomplished player for 4m. He´s struck up a good partnership with the industrious Guthrie in the middle and has been at the heart of most things they do well. We´d best put one of our grocks on him. At the back the ridiculous haired Coloccini looks a very different player to the one who first arrived there, he´s been very impressive in marshalling a mean defence.
Although no real outstanding players, they´re a good bunch playing well for their manager and you can see why they´re doing well. It´s amiss to do any sort of Newcastle preview without making reference to how fantastically filthy their women are, it has no relevance here but they´re for the most part quite wonderful. Spuggy apart, that Charley one would have got it, possibly even above the Fun House twins who I realise aren´t geordie but were the bench mark of most teenage male masturbation of that time.
Onto the lids in royal, royal blue. Who´ll play? Saha should start up front and how we need one of his days where he´s in the mood. Osman behind didn´t really work against United so personally I´d rather see Saha tucked in behind Vellios, as improbable as it sounds. Drenthe should return to replace Bily and hopefully will maintain his improvement every game as if he does we have a real player on our hands. Rodwell will be in the middle with a new partner as Fellaini, the big galoot, is suspended. Lets hope it´s not Neville or Heitinga there. It was pleasing to see something like the Seamus Coleman we know on the right doing all sorts of mad bastard runs against United. He may shoot like French warship but he can make things happen and push back the opposition on their left wing.
I harshly wrote off Heitinga in the last preview. He started slowly against United but really grew into the game and noticeably improved our distribution and retaining of possession. Rodwell and Fellaini benefit from his inclusion. I´d start him again here so the question is whether to bring back Distin or remain with Jagielka. Moyes will be the judge of that.
We pulled out a fantastic result here last year in a game where the pressure was on. We have a habit of doing that and something we really need, as our season requires a kickstart. It´s a tall task on the basis that Newcastle have their tails up and will be full of confidence in front on a partisan crowd – hopefully they´ll keep their shoes and shirts on and be thankful that City have took over their bell status with much vigour.
In a week dominated of rumour and talk of takeovers, it would be nice to have us enthusing over the good we have in our squad and proving that that we have the character and quality to start putting things right. Getting bought by brewstered Indians would be boss too like, but it´s on the green, green grass where your mood is dictated on most weekends.
Enjoy the fireworks.