It´s the first real test of the season and the beginning of a sequence of games that could have you being dragged to the Betty Ford by November.
It´s nice to go into it on a decent run of form, if not performances, as our season has started better than for a number of years. What won´t inspire confidence for this game is watching us labour to an extra win over West Brom reserves and with some players on the fringe of the squad not being too motivated to try and push for a starting place.
City go into this near the top of the table as most of us were expecting. A thousand words get wrote about them daily, now that the media love them more than the sh*te. And this is what is causing all the angst from our lovable red neighbours. They need the constant praise and adoration as they mistakenly think that is a by product of something they achieved. They don't like it when you point out that raising a meffy knitted scarf over your head in a tedious bellfest of a choir really doesn't contribute that success, no matter what their players say on twitter. Well apart from the ones who believe giant aliens run the world.
Back to City, prior to the abundant riches there was a distant kinship between City and Everton, the parallels were obvious apart from us actually winning stuff but they were generally good types to meet on holiday – esplendid in adidas Samba and customary male earring – and share a moody local beer with.
City fans themselves had no say in their club getting took over and nor did they have any say in the new owners deciding to buy some of the best players in the world and let's face it – there wouldn't be many football fans who would object to that. There is defo some envy from other clubs as they'd like to see Silva and Aguero sexing other teams to death in their colours every week. And buying boss players and generally playing boss togger.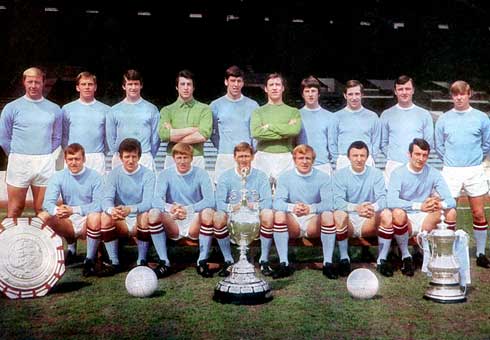 What they do have a say in however is how they collectively behave throughout it all, what´s sad to see amongst some of their fans is the bell saturation levels multiply seven fold, all washed down with a heavy dose of smug. The tea towels on the head is nothing new, it's contagious Geordie-itis, but it's a large part of their fanbase looking down their noses at others and displaying a hyper sense of entitlement. I know the media like to pick on the zany ones, with tattoos of players before they've signed, and the fans who are massive tits in the crowd as it's good for the audience. I have a few City mates who are pretty much the same so perhaps it's just bad PR and poor stereoptyping on my behalf.
However, all I've detailed prior is compounded and served up with a heavy helping of gobsh*teness – the Poznan. It's just makes you look like tits. They´ve got history with this, with the bananas in the eighties too. Is it really too much to ask you to go to the game have a couple of bevvies before, not dress with tea towels on your head and turn your back to the match in some ode to an average European club who you creamed your kecks at playing mid week? Season that big bowl of queg-soup with Garry Cook, Joleon Lescott, the Gallaghers and Carlos f*cking Tevez.
City, sadly, are like the lad you knew at school who was sound enough but eight years later turns up in town steroiding out of his Emporio Armani one size too small top and in and out of the bogs every 15 minutes. You'll let on but be weirdly pleased your path was a different one. Although that bird he's with will be will utter grot as long as you keep her up to her eyeballs in beak and luxury spa weekend specials off groupon.
As for who will play, take your pick. They have a real wonderful array of players. It's impossible to not like watching David Silva play for any football team, he really is that good. Aguero has came into the team and added an extra bit of quality that should see them as real contenders for the title, a fantastic player on his day who needs only a mere sniff of a chance, he'll only get better too. I sometimes think that Yaya Toure's cause is understated despite positively affecting a lot of their play and being like Jonah Lomu to stop when he gathers any momentum on a run. They've also sorted their defence out, Lescott has certainly settled in and it's ably protected by De Jong who done the boss kick on the Spaniard in the World Cup Final. It got condemned but we shouldn't be writing off the human will to assault any of that tittish Spanish team. Watching City I can't help but think once they start realising just how good they really are then they'll step up yet another gear.
Not one of us would raise an eyebrow if they rinsed us, and it will happen one day. Weirdly, we have some sort of Indian sign over them in recent years. F*ck knows how but we seem to turn up and get the result. We've won the last five games at their stadium and in the process got right up their noses. We've got the spirit in the players to continue it but as detailed above the chasm in personnel is growing.
I really wouldn't be surprised to see the same team start in the league for the third week running. Cahill has really grafted up front and returned to the annoying bastard he can be to the opposition but the goals haven't come yet. Against WBA there was a an Osman shaped void in creativity, which is credit to his recent importance to the team. We seen some tired legs from Drenthe understandably, and after two hours of football it´s probably Bilyaletdinov will start. We need one of his boss toeys and not for him running round playing his particular brand of shy soccer. If his ancestors would have shown the same balls then Stalingrad wouldn´t have lasted the weekend.
This is the type of game where we´ll see if Rodwell and Fellaini are going to work/worth getting excited about. They´re both by nature defence minded and they´re going to be need to be good at it. Distin and Hibbert should both return to the defence from the cup game and away we go.
There´s nothing you can do apart from watch it and see how it pans out. Six in a row would be a great start to the weekend if unlikely. What we do need is for a snarling, in your face arl arse Everton to show up, as they´re the best kind.