I´d really like Everton some day to do those comfortable two nil win things, preferably one before half time and one after before sauntering to the full time whistle without too many dramatics.
Whether we´ve got the players/confidence/tactics to do it is quite another.
Van Gogh said Winning isn´t everything, it´s the only thing and that rings true for a few hundred thousand Evertonians wanting a happy blue hue encompassing the rest of their weekend. They got their wish with a late show from the subs seeing out a 3-1 win against Wigan that was so important in light of the games we´ve got coming up.
The next round of the Milk Cup brings us another home draw and a tricky one against WBA. The ghost of Goodison past may haunt a few for this fixture as it was a depressing low point of the previous season when they tonked us 4-1.
They haven´t made a good start to the season at all really which cumulated in a 3-0 defeat in Wales on the weekend.
You know what to expect fan wise as seemingly all of the Midlands is driven by their glam rock roots into singing cringeworthy songs and upping the zany support levels to def-con 1. BOING! BOING! You bad tits.
They looked right in the sh*te last season until amicable Uncle Roy took over and done a good job in getting them very safe in a relatively short period of time. This season they acquired tiny faced Shane Long who Hodgson is hoping to groom, I think that´s the right word, into a sort of Defoe-lite.
It´s fair to say that we may see some different personnel in their starting line up for this game, which I couldn´t second guess so we´ll give a customary couple of words for their good players. Brunt being very much one, somebody who generally impresses when you see them play with a pretty handy left foot, we´ll have to get tight on the right against him and stop him making things happen for them. We´ve covered the pixie looking slotter Shane but their main threat up front is from Peter Odwemwingie, who was pretty prolific last season and to his credit signed a new contract with them in the summer rather than taking a move like the media were tediously trying to make happen. Fast, direct and slots – what´s there not to like? We have to mention that odious tool Scharner with his fifteen different haircuts and dead by 39 overtones, as he´ll at least score one against us.
No doubt we´ll see some changes ourselves although I doubt there will be too many as hopefully Moyes will see this as a viable avenue into Europe. It warmed the cockles to see a striker on the pitch against Wigan and we´ll see at least one here. Vellios scoring would pretty much guarantee him starting this game you´d think, with Cahill rested. It wouldn´t be a surprise to see Barkley removed from his cotton wool to play a decent period of the game, and the mad Dutch bastard getting his first start. Mentalist celebrations will always strike a chord with the Gwladys Street, nice goal too. There shouldn´t really be too many other surprises, other than our modern day Slovakian Jason Kearton replacing Tim Howard in goal.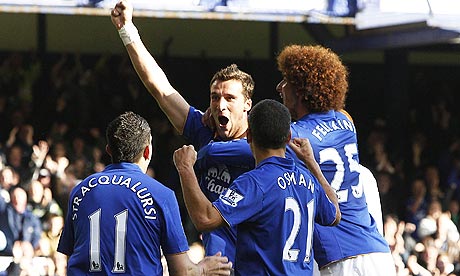 It would be nice to snot someone from the off rather than the usual script of starting bright before eventually running out of ideas and surfing the groans like an angst ridden teenager. The late win was a step in the right direction.
This game rounds off a period of five games out of six at home, in the league and cup. Tougher tests lie just on the horizon and we need to get some momentum going if were to avoid the traditional November blues that we´ve been accustomed to.
A two nil would be just the thing.