It already feels like an eternity since Arteta won a game we didn´t deserve with virtually his lack kick of a ball in a blue shirt, more of that a wee bit later.
We anticipated deadline day as being a morbid affair and it turned out anything but. Yakubu going was no big shakes as the big galoot has been largely a peripherial figure since his injury. Beckford going raised an eyebrow, and then Arteta followed right on the buzzer and caused the the kerfuffle. In the side entrance at Finch Farm entered some Argentinian grock of a striker and Drenthe who used to be ace we think. The bones have well and truly chewed out of it with differing viewpoints but only time will be the judge of whether it was a good twist or not.
The Blackburn game could and should have been lost as we were dire, even more galling in that Blackburn themselves are an absolute doghouse of a team. They players have had two weeks to put that right and if they haven´t then there´ll be very loud boos indeed at around 4.51pm in L4.
We´ve been in and around the best of the rest with Villa for a couple of years, more so when that crazy tit O´Neill was managing them. Things have took a down turn for them in the past year or two with the aforementioned tit leaving to be replaced by the ambling Houllier who has now been replaced by Alex McLeish, an appointment that didn´t get the juices flowing in the nation´s second city and caused a fair amount of controversy as he moved directly from their relegated rivals.
Lerner was meant to be their knight in shining armour but isn´t seemingly recession proof as they´ve recently been selling their best players for fun. Saying that, most of us would swap him in a heartbeat. In came N´zogbia and Jermaine Jenas. A quick look on their website states that signing Scotlands boss full back of 2006, Alan Hutton, as a coup which is a bit weird really.
They can still put out a very decent eleven with some good players. Bent, similar to Baines, returned back from the recent England camp with an injury and there won´t be too many grumbles from us if he misses out as he does that scoring thing that we don´t quite well. Agbonlahor is fast and good for a goal, I like that the look of the other Arshavin twin, Marc Allbrighton. You´d put good money on N´zogbia scoring against us as we were apparently stalking him, but without money which doesn´t help somewhat. If he starts then it should be an interesting contest on the wing to see if he can pass the Dutchie on our left hand side. I´ll stop right there, and apologies.
We´ve been looking pretty stale since the players kicked off pre season in July which is unsurprising without any new signings, We were in dire need of fresh blood. Saha, leech depending, is touch and go and Anichebe returned from international duty with a knock which leaves us very short up front. Enter Denis Stracqualursi who very easily could be Carlos Tevez´s twin delivered with forceps. Goals all over the show in the Argentinian league but who knows if that will translate to the Premiership, were about to find out. One thing he may give us is the ability to retain the ball up front which wasn´t really happening when the ball would bounce thirty yards off Beckford´s ankles or shins. Beckford did score however and replacing ten goals in a season will be no easy feat.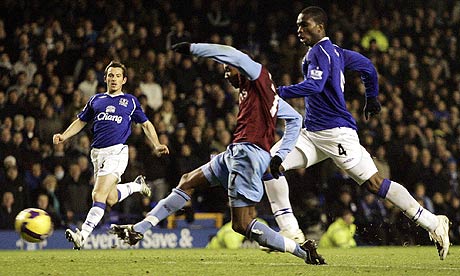 We won´t be seeing another line up with Arteta in it. Sad because he´s gave us some super moments, was an all round good egg and was one of the players in the team capable of giving you outbreaks of glee when he was on top form. That top form has been missing for a while and the balance with Fellaini in the middle just wasn´t happening, he made it clear he wanted to leave and we sold him. Simple as that really. Thanks Mikel.
Moving on we´ve signed Drenthe on loan who possesses some of that pace we´ve been crying out for and has been impressing all and sundry in Finch Farm already. Hopefully that will translate to the pitch as he´s got more than a touch of the Van Der Meydes about him. If he does play like how he can then we have a very promising left hand side with him and Baines. On the other side of midfield, Coleman has returned to training but is likely to be not quite ready so who starts there will be up for grabs, hopefully not Rodwell. On Rodwell, this season really could be last chance saloon. That midfield spot is his if he wants it, if he keeps ambling around the midfield like happy dog on a summer´s day then it´s likely his potential will remain just that. Baines is meant to be fit for the weekend so the defence and goalkeeper should remain unchanged although on early evidence so far it wouldn´t be so bad to replace Neville with Hibbert.
It will be nice to get back to the football unless we play like our prior two games so far. Villa really are there for the taking and the follow up of a game against Wigan at home gives incentive to keep some form of momentum rolling.
Goodison Park could do with a new hero, apply within.